What ever happened to the rest of the toaster …..?
It's right here in my entry for this year's Blarney Biblio-art award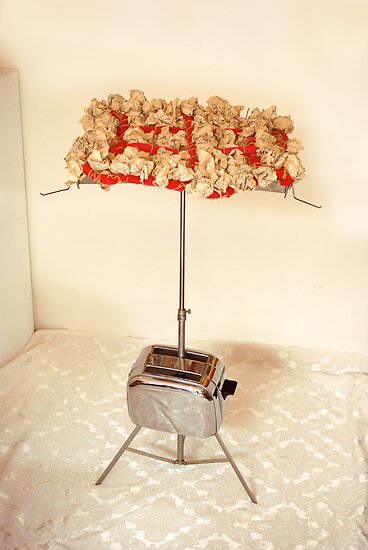 It's called The Other Half
This is in the category of "Paper Bag Challenge" (that is, I did not know which book I was being sent) The book I received was The Man Who Knew by Edgar Wallace
With some difficulty, I did attempt to read this book, as the pages were falling out. From my reading I ascertained that it was a detective/mystery type of thing, along the lines of Sherlock Holmes. There were mysterious characters, dark alleys, a beautiful young girl, family problems, an inheritance, a fortune in mining to be made…but I had trouble piecing all these things together as the pages detached themselves and went off each in their own direction.
Just as the strands of the story needed knotting together to form a whole and solve the mystery, so I decided to knit together the individual pages, the result being a kind of textile or mat. At this point, I was, for a while, stumped.
Eventually, however, the other elements presented themselves to me, and the mystery resolved itself.
The result is an object both strange and familiar.
This is the Culprit, the Missing Link, The Other Half, the Creature we all know, just as Edgar Wallace's "Man"… "Knew"….
Construction.
The object/assemblage has 3 parts – the textile, the music stand and the toaster (yes, the toaster!)
The music stand has 3 parts, the tripod base, the folding desk and the connecting tube.
The connecting tube inserts into the tripod and the toaster is threaded onto it. The folding desk is then inserted into the tube. The textile is then placed on top of the almost horizontal desk, the surface of the work with the most red is upward and the edge with obvious knitting is to the right hand side.