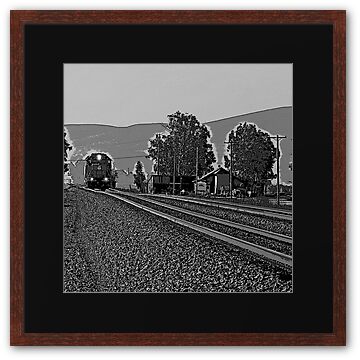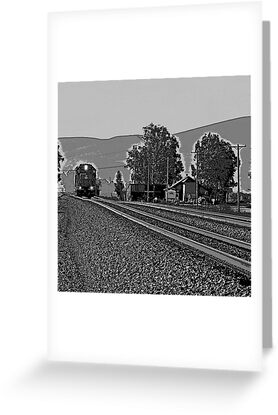 When I took this shot, I automatically thought of the TV series Petty Coat Junction and the series song came straight into my head. It was something like this: Come "RIDE THE LITTLE TRAIN" that is rolling down the track to the junction, chorus"PETTY COAT JUNCTION"
It is run by Kate, come and be her guest at the junction, chorus "PETTY COAT JUNCTION"
And that's Uncle Joe, he's a movin kinda slow at the junction, PETTY coAT JUNCTION!
I used my new Canon EOS 60D with the factory installed Canon 18-135 IS AF F:4/5.6:1 lens. This shot was taken at 135mm to get as close to the engine as I could without having to crop in too tight. I still had to crop, but I only got rid of garbage that wasn't crutial to the image. I'm pretty sure the bubble boomers all remember Petty Coat Junction on the television. It seems like all of my TV heros are all dying . I just read that Jane Russell died today, she was discovered by famed multimillionaire, Howard Hughes. Anyway, back to the engine, it just fit the song for some reason. I guess with the house on the right side of the tracks and the engine with it's brite light, it was just natural for that memory to come to mind. Speaking of tracks, look how up and down these tracks are. I don't know if I'd want to ride California's AmTrack on this set of tracks or not. They look pretty shakey what with all the dips and rises on the top of the levy that the tracks ride on. I've found all sorts of loose track clamps and spikes, just laying along the rails from all of the movement from the weight of the trains passing over them day after day. This particular set of tracks are on a stretch of levey in an area called Chadbourne Slough, South of Cordellia in Northern California, United States. It doesn't look like it, but there is fishing not far from this shot,,,that is why I was in the area as this train came along. I did my digital darkroom work on this shot in Adobe Photoshop Elements 9.0, then took the color out to make it black & white. I also did some Auto Enhancing with Auto Contrast, Auto Focus, as well I did some manual filter exposure changes, to the brightness, contrast and shadows and highlight.