VIEWED BY 164 PEOPLE
FEATURED IN "FEATURED WRITING GROUP"
SOME TIME AGO!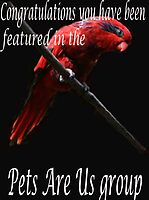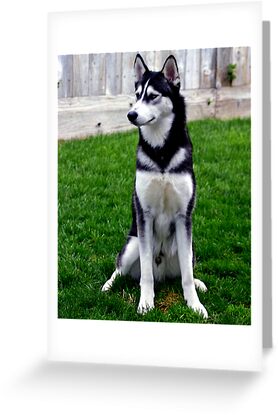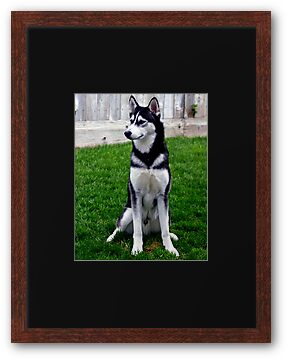 I WAS SUPPOSED TO TAKE CHEWBACCA'S PHOTO ON HIS FIRST BIRTHDAY. BUT, I THOUGHT TUESDAY WAS ACTULLY MONDAY, SO I MISSED THE ONE YEAR PHOTO. SO, I HAD TO SETTLE FOR A "ONE YEAR AND ONE DAY" PHOTO INSTEAD. CHEWY IS VERY PHOTOGENIC, I'VE GOT HIM TO LISTEN TO ME, EVERY ONCE IN A WHILE AND HE WILL ACTUALLY SIT AND STAY, WHERE I TELL HIM TO. I WAS USING MY CANON EOS DIGITAL REBEL 300D AND MY 75-300 TELEPHOTO AF MACRO LENS. I HAD IT SET AT 75MM FOR THIS SHOT, SO I HAD TO MAKE CHEWY STAY UNTIL I GOT FAR ENOUGH AWAY TO GET HIM FULL FRAMED. USUALLY WHENEVER I'M TRYING TO SHOOT HIM IN THE BACK YARD OF MY HOUSE IN VACAVILLE CALIFORNIA, UNITED STATES, HE IS MOVING PRETTY FAST, OR AT LEAST MOVING ENOGH TO MAKE FRAMING HIM IN A SHOT MORE DIFFICULT. I WAS VERY PLEASED WITH HIM THIS DAY, AS I WAS ABLE TO GET SEVERAL SHOTS OF HIM SITTING IN THIS SPOT. IN EACH SHOT, HIS HEAD IS IN A LITTLE DIFFERENT PLACE, BUT I THINK THIS ONE LOOKED THE BEST, SO I DECIDED ON USING IT INSTEAD OF ONE OF THE OTHER TWO. CHEWBACCA IS A SIBERIAN/TIMBER WOLF LOW CONTENT HIGHBRID. HIS MOTHER WAS AKC SIBERIAN AND HIS DAD WAS A 50/50 SIBERIAN/ TIMBER WOLF. I ACCIDENTALLY LOCATED ONE OF HIS BROTHERS JUST TWO BLOCKS AWAY FROM WHERE WE LIVE. SMALL WORLD. THANK GOD I GOT TO THE PERSON SELLING THE PUPS FIRST, OTHER WISE I WOULD HAVE PROBABLY ENDED UP WITH HIS BROTHER INSTEAD OF HIM. THE GUY THAT HAS HIS BROTHER ASKED ME IF I GOT THE LAST PUPPY, BECAUSE HE HASN'T SEEN CHEWY YET, I TOLD HIM NO, I GOT THE FIRST PUPPY. YOU SEE, I DIDN'T WAIT UNTIL SATURDAY TO GO LOOK AT THE PUPS,, I WENT ON A THURSDAY, THE DAY THEY TURNED 8 WEEKS OLD. LUCKY FOR ME, I GOT FIRST PICK AND CHEWY WAS MY PICK. MAINLY BECAUSE HE WAS DARKER THAN THE REST OF THE PUPPIES AND I WANTED THAT SIBERIAN BLACK AND WHITE LOOK, MORE THAN THE GRAY AND WHITE LIKE HIS BROTHER IS.