S O L D ! ONE CARD! ! YEA !
VIEWED BY 143 PEOPLE

FEATURED ON MAY 4, 2011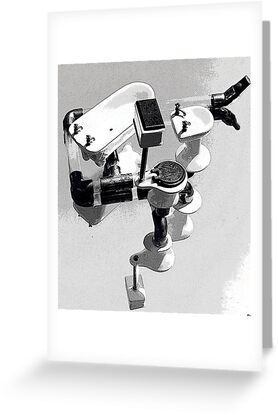 BELIEVE IT OR NOT, THIS IS A PIPE. ALTHOUGH I NEVER HAD THE EXPERIENCE OF USING IT, I HEARD IT WAS QUITE THE PIPE. IT IS MADE UP OF CERAMIC COMPONENTS WITH CLEAR PVC AND COPPER TUBING. I DON'T KNOW WHERE THE SMOKING MATERIAL WAS SUPPOSED TO BE PLACED. THIS SHOT IS TAKEN ON TOP OF A MIRROR OUTSIDE. I CHOSE THE OUTSIDE TO AVOID GETTING REFLECTIONS ON THE MIRROR FROM INSIDE SOURCES. I DON'T THINK I COULD EVER GET USED TO SMOKING FROM "BATHROOM PLUMBING AND FIXTURES". THERE'S JUST SOMETHING ABOUT SMOKING FROM A TOILET. ALTHOUGH I DON'T THINK YOU CAN FIND THIS ITEM IN STORES ANYMORE, AT ONE TIME IT COULD HAVE BEEN PURCHASED AT JUST ABOUT ANY HEAD SHOP IN CALIFORNIA, THE UNITED STATES . THOSE OF YOU THAT GREW UP IN THE 60'S AND 70'S KNOW WHAT A HEAD SHOP WAS. I USED MY CANON AE-1 AND MY 100-200MM TELEPHOTO LENS TO TAKE THIS SHOT. IT WAS ALSO TAKEN ON FILM TO BOOT, SO I HAD TO SCAN THE 3X5 PHOTO INTO MY COMPUTER AND THEN I TOOK IT INTO ADOBE PHOTOSHOP ELEMENTS. THE ORIGINAL SHOT OF THIS WATER PIPE WAS TAKEN IN 1985 WHILE I WAS IN BLACK & WHITE BEGINNING PHOTO LAB, AT THE SOLANO COMMUNITY COLLEGE, NEAR FAIRFIELD, CALIFORNIA IN THE UNITED STATES. STUDENTS IN MY CLASS KEPT ASKING ME WHY I WAS IN A BEGINNING CLASS, SINCE I ALREADY HAD SOME YEARS OF EXPERIENCE TAKING PHOTOS. I TOLD THEM, IT WAS BECAUSE I HAD TO HAVE B&W LAB EXPERIENCE, SO I COULD GET INTO THE COLOR LAB, IN THE NEXT SEMESTAR. MY INSTRUCTOR, MR. ZIDEK, CALL ME MR. ZEEK, WANTED TO KNOW WHERE HE COULD GET A PIPE LIKE THIS ONE. I TOLD HIM, SORRY, IT'S THE ONLY ONE I'VE EVER SEEN LIKE THIS AND I DON'T KNOW WHERE MY FRIENDS GOT IT FROM. IT WAS A COOL LOOKING PIPE THOUGH.