3d fine art render of a Fairchild Republic A-10 Thunderbolt II. Post work done with photoshop.
Best viewed large.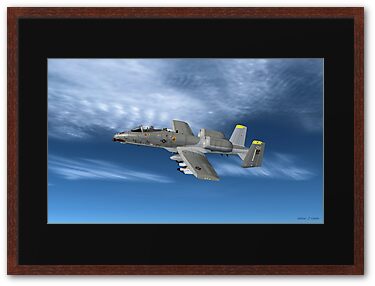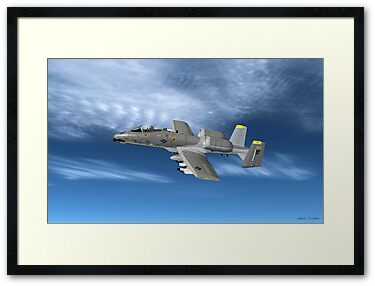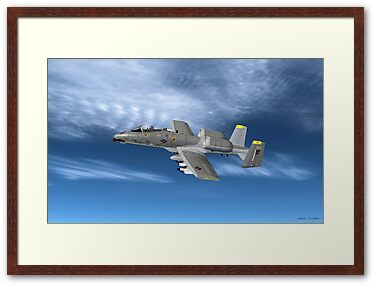 A-10 Thunderbolt
The Fairchild Republic A-10 Thunderbolt II is an American single-seat, twin-engine, straight-wing jet aircraft developed by Fairchild-Republic in the early 1970s. The A-10 was designed for a United States Air Force (USAF) requirement to provide close air support (CAS) for ground forces by attacking tanks and other armored vehicles, and other ground targets with a limited air defense capability. It was the first USAF aircraft designed solely for CAS.
The A-10 was designed around the GAU-8 Avenger, a heavy rotary cannon that forms the aircraft's primary armament. (It is, to date, the heaviest rotary cannon ever mounted on an aircraft.) The aircraft's hull incorporates over 1,200 pounds (540 kg) of armor and was designed with survivability
as a priority, with protective measures in place which enable the aircraft to continue flying even after taking significant damage.
The A-10's official name comes from the Republic P-47 Thunderbolt of World War II, a fighter that was particularly effective at close air support. The A-10 is more commonly known by its nickname "Warthog" or simply "Hog". As a
secondary mission, it provides airborne forward air control, guiding other aircraft against ground targets. A-10s used primarily in this role are designated OA-10. The A-10 is not expected to be replaced until 2028 or later.
Weapon systems
A side-view drawing of the A-10's GAU-8/A Avenger gun and its approximate location in the fuselage.
Although the A-10 can carry considerable disposable stores, its primary built-in weapon is the 30 mm GAU-8/A Avenger Gatling-type cannon. One of the most powerful aircraft cannons ever flown, it fires large depleted uranium armor-piercing shells. In the original design, the pilot could switch between two rates of fire: 2,100 or 4,200 rounds per minute; this was changed to a fixed rate of 3,900 rounds per minute. The cannon takes about half a second to come up to speed, so 50 rounds are fired during the first second, 65 or
70 rounds per second thereafter. The gun is accurate enough to place 80% of its shots within a 40-foot (12.4 m) diameter circle from 4,000 feet (1,220 m) while in flight] The AU-8 is optimized for a slant range of 4,000 feet (1,220 m)
with the A-10 in a 30 degree dive.
The fuselage of the aircraft is built around the gun. The gun's firing barrel is placed at the 9 o'clock position so it is aligned on the aircraft's centerline. The gun's ammunition drum can hold up to 1,350 rounds of 30 mm ammunition, but generally holds 1,174 rounds. The damage caused by rounds firing prematurely from impact of an explosive shell would be catastrophic, so a great deal of effort has been taken to protect the 5 feet 11.5 inch (1.816
m) long drum. There are many armor plates of differing thicknesses between the aircraft skin and the drum, to detonate an incoming shell before it reaches the drum. A final layer of armor around the drum protects it from fragmentation damage. The gun is loaded by Syn-Tech's linked tube carrier GFU-7/E 30 mm ammunition loading assembly cart.
Another commonly used weapon is the AGM-65 Maverick air-to-surface missile, with different variations for either electro-optical (TV-guided) or infrared targeting. The Maverick allows targets to be engaged at much greater ranges than the cannon, a safer proposition in the face of modern
anti-aircraft systems. During Desert Storm, in the absence of dedicated forward-looking infrared (FLIR) cameras for night vision, the Maverick's infrared camera was used for night missions as a "poor man's FLIR". Other weapons include cluster bombs and Hydra rocket pods. Although the A-10 is
equipped to carry laser-guided bombs, their use is relatively uncommon. The A-10 has not been equipped with weapon control systems for accurate bombing as of 2000. A-10s usually fly with an ALQ-131 ECM pod under one wing and two AIM-9 Sidewinder air-to-air missiles under the other
wing for self-defense.
General characteristics
Crew: 1
Length: 53 ft 4 in (16.26 m)
Wingspan: 57 ft 6 in (17.53 m)
Height: 14 ft 8 in (4.47 m)
Wing area: 506 ft² (47.0 m²)
Airfoil: NACA 6716 root, NACA 6713 tip
Empty weight: 24,959 lb (11,321 kg)
Loaded weight: 30,384 lb (13,782 kg) On CAS mission: 47,094
lb (21,361 kg)
On anti-armor mission: 42,071 lb (19,083 kg)
Max. takeoff weight: 50,000 lb (23,000 kg)
Powerplant: 2 × General Electric TF34-GE-100A turbofans,
9,065 lbf (40.32 kN) each
Performance
Never exceed speed: 450 knots (518 mph, 833 km/h) at
5,000 ft (1,500 m) with 18 Mk 82 bombs
Maximum speed: 381 knots (439 mph, 706 km/h) at sea level,
clean
Cruise speed: 300 knots (340 mph, 560 km/h)
Stall speed: 120 knots (138 mph, 220 km/h)
Combat radius:
On CAS mission: 250 nmi (288 mi, 460 km) at 1.88 hour
single-engine loiter at 5,000 ft (1,500 m), 10 min combat
On anti-armor mission: 252 nmi (290 mi, 467 km), 40 nm (45
mi, 75 km)) sea-level penetration and exit, 30 min combat
Ferry range: 2,240 nmi (2,580 mi, 4,150 km) with 50 knot (55 mph, 90 km/h) headwinds, 20 minutes reserve Service ceiling: 45,000 ft (13,700 m)
Rate of climb: 6,000 ft/min (30 m/s) Wing loading: 99 lb/ft² (482 kg/m²)
Thrust/weight: 0.36
Armament
Guns: 1× 30 mm (1.18 in) GAU-8/A Avenger gatling cannon with 1,174 rounds Hardpoints: 11 (8× under-wing and 3× under-fuselage pylon stations) with a capacity of 16,000 lb (7,260 kg) and provisions to carry combinations of: Rockets:
4× LAU-61/LAU-68 rocket pods (each with 19× / 7× Hydra 70 mm rockets, respectively)
4× LAU-5003 rocket pods (each with 19× CRV7 70 mm rockets)
6× LAU-10 rocket pods (each with 4× 127 mm (5.0 in) Zuni rockets)
Missiles:
2× AIM-9 Sidewinders air-to-air missiles for self-defense
6× AGM-65 Maverick air-to-surface missiles
Bombs:
Mark 80 series of unguided iron bombs or
Mk 77 incendiary bombs or
BLU-1, BLU-27/B Rockeye II, Mk20, BL-755 and CBU-
52/58/71/87/89/97 cluster bombs or
Paveway series of Laser-guided bombs or
Joint Direct Attack Munition (A-10C) or
Wind Corrected Munitions Dispenser (A-10C)