3d digital fine art render of a Mig-29a Post work with photoshop.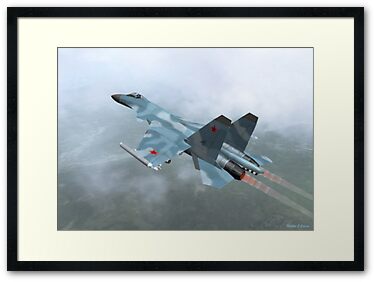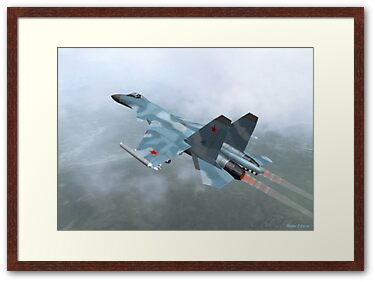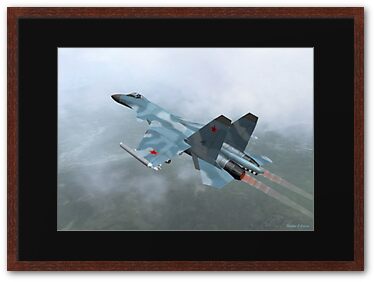 The Mikoyan MiG-29 NATO reporting name: ("Fulcrum") is a fourth-generation jet fighter aircraft designed in the Soviet Union for an air superiority role. Developed in the 1970s by the Mikoyan design bureau, it entered service with the Soviet Air Force in 1983, and remains in use by the Russian Air Force as well as in many other nations. The NATO name "Fulcrum" was sometimes unofficially used by Soviet pilots in service.
The MiG-29, along with the Sukhoi Su-27, was developed to counter new American fighters such as the McDonnell Douglas F-15 Eagle, and the General Dynamics F-16 Fighting Falcon.
Sharing its origins in the original PFI requirements issued by TsAGI, the MiG-29 has broad aerodynamic similarities to the Sukhoi Su-27, however, there are some notable differences. The MiG-29 has a mid-mounted swept wing with blended leading-edge root extensions swept at around 40°there are swept tailplanes and two vertical fins, mounted on booms outboard of the engines. Automatic slats are mounted on the leading edges of the wings; they are four-segment on early models and five-segment on some later variants. On the trailing edge, there are maneuvering flaps and wingtip ailerons. At the time of its deployment, it was one of the first jet fighters in service capable of executing the Pugachev Cobra maneuver.
The MiG-29 has hydraulic controls and a SAU-451 three-axis autopilot but, unlike the Su-27, no fly-by-wire control system. Nonetheless, it is very agile, with excellent instantaneous and sustained turn performance, high-alpha capability, and a general resistance to spins. The airframe consists primarily of aluminium with some composite materials, and is stressed for up to 9-g (88 m/s²) maneuvers. The controls have "soft" limiters to prevent the pilot from exceeding g and alpha limits, the limiters can be disabled manually
Armament for the MiG-29 includes a single GSh-30-1 30 mm cannon in the port wing root. This originally had a 150-round magazine, which was reduced to 100 rounds in later variants. Original production MiG-29B aircraft cannot fire the cannon when carrying a centerline fuel tank as it blocks the shell ejection port. This issue was corrected in the MiG-29S and later versions. Three pylons are provided under each wing (four in some variants), for a total of six (or eight). The inboard pylons can carry either a 1,150 litre (300 US gal) fuel tank, one Vympel R-27 (AA-10 "Alamo") medium-range air-to-air missile, or unguided bombs or rockets. Some Soviet aircraft could carry a single nuclear bomb on the port inboard station. The outer pylons usually carry R-73 (AA-11 "Archer") dogfight missiles, although some users still retain the older R-60 (AA-8 "Aphid"). A single 1,500-litre (400 US gal) tank can be fitted to the centerline, between the engines, for ferry flights, but this position is not used for combat stores. The original MiG-29B can carry general-purpose bombs and unguided rocket pods, but not precision-guided munitions. Upgraded models have provision for laser-guided and electro-optical bombs, as well as air-to-surface missiles.