3d art render of a Grumman J2F Duck rescuing a downed F4u Pilot somewere in the south pacific during world war two.
Made with Bryce 7 Pro. Some post work with photoshop.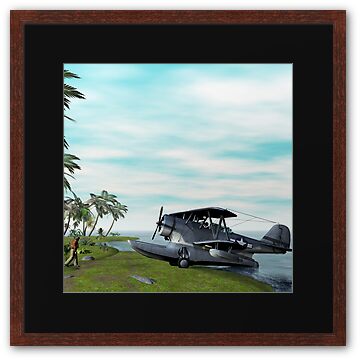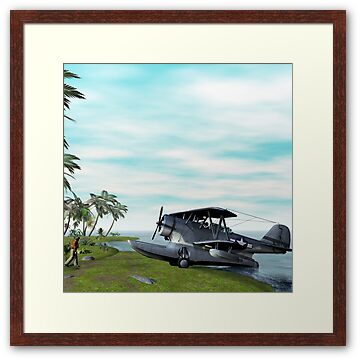 The Grumman J2F Duck (company designation G-15) was an American
single-engine amphibious biplane. It was used by each major branch of
the U.S. armed forces from the mid-1930s until just after World War
II, primarily for utility and air-sea rescue duties. It was also used
by the Argentine Navy, who took delivery of their first Duck in 1937.
After the war, J2F Ducks saw service with independent civilian
operators, as well as the armed forces of Colombia and Mexico.
The J2F was an improved version of the earlier JF Duck, with its main
difference being a longer float.
The J2F-1 Duck first flew on 2 April 1936, powered by a 750 hp (559
kW) Wright R-1820 Cyclone, and was delivered to the U.S. Navy on the
same day. The J2F-2 had a Wright Cyclone engine which was boosted to
790 hp (589 kW). Twenty J2F-3 variants were built in 1939 for use by
the Navy as executive transports with plush interiors. Due to pressure of work following the United States entry into the war in 1941, production of the J2F Duck was transferred to the Columbia Aircraft Corp of New York. They produced 330 aircraft for the Navy and U.S. Coast Guard.
Several surplus Navy Ducks were converted for use by the United
States Air Force in the air-sea rescue role as the OA-12 in 1948.
The J2F was used by the U.S. Navy, Marines, Army Air Forces and Coast
Guard. Apart from general utility and light transport duties, its
missions included mapping, scouting/observation, anti-submarine
patrol, air-sea rescue work, photographic surveys and reconnaissance,
and target tug.
A J2F of the utility squadron of US Patrol Wing 10 was destroyed at
Mariveles Bay, Philipines, by a Japanese air raid on 5 January 1942.