3d digital art render of a Utahraptor in a prehistoric canyon. Made with Bryce 3d, some postwork with photoshop.
This image is not Historically accurate.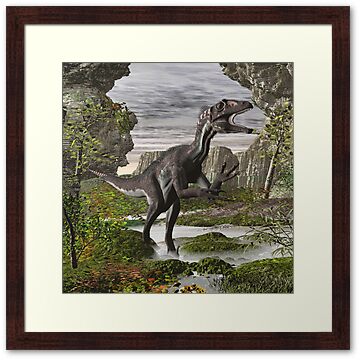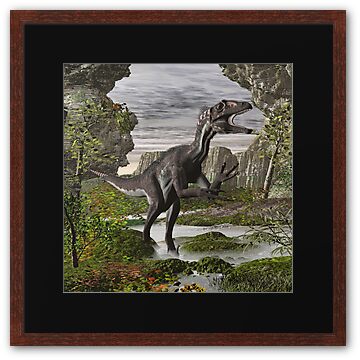 Utahraptor (meaning "Utah's predator") is the largest known member of thetheropod dinosaur family Dromaeosauridae, and dates from the upper Barremianstage of the early Cretaceous period (about 124 million years ago).
The holotype of Utahraptor is fragmentary, consisting of skull fragments, a tibia, claws and some caudal (tail) vertebra. The few elements suggest an animal about twice the size of Deinonychus. Like other dromaeosaurids, Utahraptor had a huge curved claw on the second toe; one is preserved at 22 centimetres (8.7 in) in length and is thought to reach 24 centimetres (9.4 in) restored. The largest described specimens are estimated to have reached up to 7 m (23 ft) long and somewhat less than 500 kg (1,100 lb) in weight, comparable to a Grizzly bear in size. Some undescribed specimens in the BYU collections may have reached up to 11 m (36 ft) long, though these await more detailed study.
It is thought that Utahraptor may be closely related to the smaller Dromaeosaurus and the giant Mongolian dromaeosaurid Achillobator.
Although feathers have never been found in association with Utahraptor, there is strong phylogenetic evidence suggesting that all dromaeosaurids possessed them. This evidence comes from phylogenetic bracketing, which allows paleontologists to infer traits that exist in a clade based on the existence of that trait in a more basal form. The genus Microraptor is one of the oldest known dromaeosaurids, and is phylogenetically more primitive than Utahraptor. Since Microraptor possessed feathers, it is reasonable to assume that this trait was present in all of Dromaeosauridae. Feathers were very unlikely to have evolved more than once in dromaeosaurs, so assuming that Utahraptor lacked feathers would require positive evidence that it did not have them. So far, there is nothing to suggest that feathers were lost in larger, more derived species of dromaeosaurs.