3d art render of three Avro Lancaster bombers durning ww ll. This image is not historicaly accurate, it is just an artist rendention.
Made with bryce 3d, some post work in photoshop.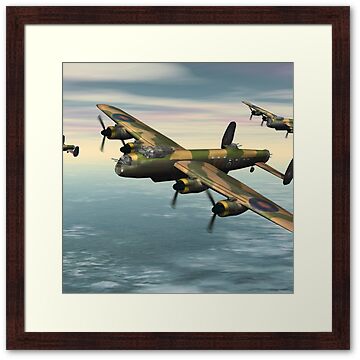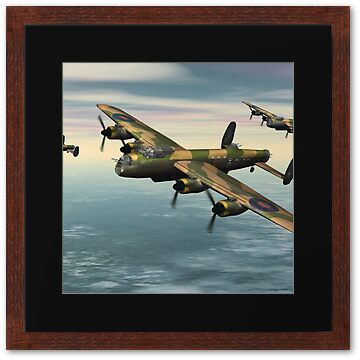 The Avro Lancaster was a British four-engined Second World War heavy bomber made initially by Avro for the Royal Air Force (RAF). It first saw active service in 1942, and together with the Handley Page Halifax it was one of the main heavy bombers of the RAF, the RCAF and squadrons from other Commonwealth and European countries serving within RAF Bomber Command. The "Lanc", as it was affectionately known, became the most famous and most successful of the Second World War night bombers, "delivering 608,612 tons of bombs in 156,000 sorties." Although the Lancaster was primarily a night bomber, it excelled in many other roles including daylight precision bombing, and gained worldwide renown as the "Dam Buster" used in the 1943 Operation Chastise raids on Germany's Ruhr Valley dams.
The Avro Lancaster became the most effective heavy bomber of WW2 and formed the back-bone of the Bomber Offensive against German industrial cities. It was well-liked by pilots, having four powerful and reliable Rolls-Royce Merlin engines (the same as fitted to the Spitfire fighter) and excellent handling characteristics. It had a crew of seven (Pilot, Navigator, Flight Engineer, Wireless Operator, Bomb Aimer/Front Gunner, Mid-Upper Gunner and Rear Gunner). Specially adapted Lancasters took part in the famous 'Dambusters' raid. Lancasters also dropped five ton 'Tallboy' bombs to sink the much-feared German battleship 'Tirpitz' and by the end of the war were able to drop the 10 ton 'Grand Slam' bomb on precision targets such as bridges and viaducts.