3d fine art render of P-61 Black Widow aircraft..
This scene is not historically accurate, it is just an artist representation.
Made with Bryce 3d, some post work in Photoshop.
2410 views As of feb.12,2012. 2410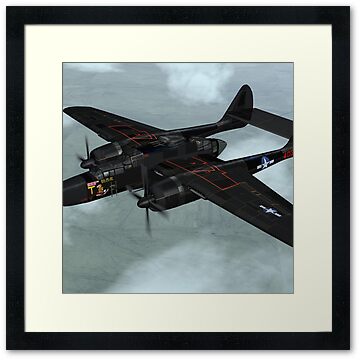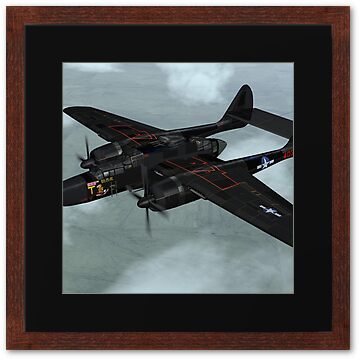 The Northrop P-61 Black Widow was the first operational U.S. military aircraft designed specifically to use radar. The "Black Widow" was an all-metal, twin-engine, twin-boom, aircraft flown as a night-fighter by United States Army Air Forces squadrons in the European Theater, the Pacific Theater, the CBI Theater, and the Mediterranean Theater during World War II. It replaced earlier British-designed night-fighter aircraft that had been updated to incorporate radar when it became available. On the night of 14 August 1945, a P-61B-2 of the 548th NFS named "Lady in the Dark" was unofficially credited with the last Allied air victory before VJ Day. The P-61 was also modified to create the F-15 Reporter, the last piston-powered photo-reconnaissance aircraft designed and produced for the U.S. Air Force.
Though the P-61 proved itself very capable against the majority of German aircraft it encountered, it was clearly outclassed by the new aircraft arriving in the last months of World War II. It also lacked external fuel tanks until the last months of the war an addition that would have extended its range and saved many doomed crews looking for a landing site in darkness and bad weather. External bomb loads would also have made the type more adaptable to the ground attack role it soon took on in Europe. These problems were all addressed eventually, but too late to have the impact they might have had earlier in the war. The P-61 proved very capable against all Japanese aircraft it encountered, but saw too few of them to make a significant difference in the Pacific war effort.