3d art render of three Douglas C-47 Skytrain / Dakota flying supplies to China over the Himalayan mountains (the hump) in Burma when the Burma to China road was knocked out in 1942.
Views: 561 as of Jan, 1, 2012
Made with Bryce 3d. This image is not historically accurate, it is just an artist rendiition.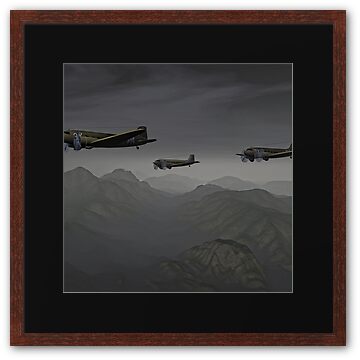 The United States and its allies needed to keep .
China in the war because its forces preoccupied
hundreds of thousands of Japanese troops.
Holding that valuable Chinese turf permitted
the Allies to attack Axis powers in the
European theater, at the same time building a
necessary launch site for an Allied attack on
Japan's home islands. However, that grand
strategy could only work if China and allied
troops could be routinely supplied.
In April 1942, pilots started flying the "Hump,"
and continued missions until 1945, when the
Burma Road was reopened. The dangerous
530-mile long passage over the Himalayan
Mountains took its toll. Nearly 1,000 men and
600 Air Transport Command (ATC) planes
were lost over the hump by the end of China-
Burma-India Theater (CBI) operations. In
addition, China National Aviation Corporation
(CNAC) lost 38 planes and 88 airmen.