3d digital fine art render of a Norwegian PBY Catalina.(3-B "Vingtor)
Consolidated Catalina Mk.I
W8424 / 3-B "Vingtor"
333 (Norwegian) Sqn. RAF
Woodhaven, Scotland 1944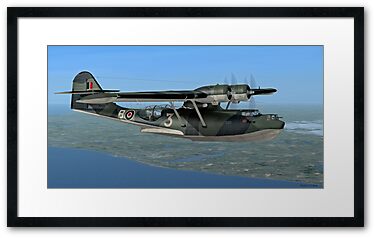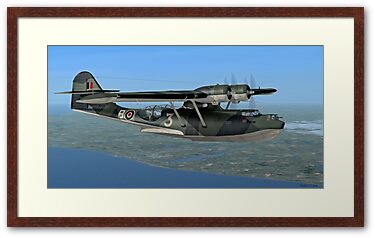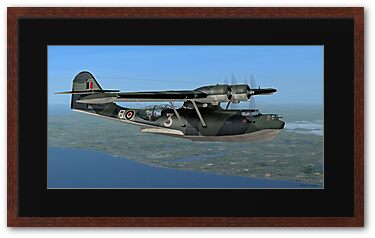 The first Norwegian Catalina unit started life on 8 February 1942 when the Norwegian Detachment of Coastal Command's No. 210 Squadron was established at Woodhaven in Scotland. Later the same month the unit received its first aircraft, a Catalina Mk.I. The purpose of this unit was to operate on the Norwegian coastline, delivering and picking up agents and equipment in cooperation with the Norwegian resistance. Between these clandestine operations the unit had secondary tasks like submarine hunting, recognision flights and convoy escort, as well as transport flights to Murmansk.
The first Catalina was named "Vingtor" and had the name and a small Norwegian service flag painted on the nose. It retained the codes, QL-R, from its previous operator, No.413 Squadron, Royal Canadian Air Force. Two additional aircraft were assigned to the unit, "Jøssing" in arriving in September and "Viking" in March the next year. The unit had by then been established as a separate unit, given the designation No. 1477 (Norwegian) Flight. On 10 May 1943 it gained squadron status and was redesignated to No.333 (Norwegian) Squadron, being the fourth Norwegian squadron within the Royal Air Force. When the Mosquito flight was established at Leuchars, this was given the designation B Flight, while the Catalina unit at Woodheaven used the designation A Flight.
In May 1944 "Jøssing" was heavily damaged after several hits from a German U-boat. The aircraft was written off and was replaced by "Ulabrand". On subsequent replacements the four names were inherited, with Roman numerals II, III etc. added. Today the same four names adorn the noses of four 333 Sqn. P-3C Orion aircraft.
When the Germans started to withdraw from northern Norway, it became a need for transporting all sorts of supplies to the liberated but impoverished people. Thus more and more transport flights were carried out.
With the end of the war, the squadron moved home to Norway on 11 June 1945. Its first base in Norway was at Fornebu just outside Oslo. For the rebuilding the country after the occupation there was a great need for transportation of people and all sorts of equipment. To help whith the transportation needs the squadron's fleet was increased with three ex-Luftwaffe aircraft, an Arado Ar.196A-3 seaplane and two Dornier Do.24T-3 flying boats. There was also a shortage of pilots, so the Dorniers were flown by German pilots.