"PATIENCE IS THE COMPANION OF WISDOM."
Saint Augustine
This is a well known location in Zurich called Lindenhof, it is above the Rennweg and it is also known for playing a game of chess. This location overlooks the river Limmat in Zurich and you can see Zurich University from here.
Many years ago, the Lindenhof, Zurich was a roman castle, which was formed here around the 5th or 6th century. Much later, in the year 1747, the tombstone from roman era was discovered that proves this assumption.
The center of Zurich Lindenhof, houses a beautiful fountain. In the center tower of the Fountain there is one statue, dedicated to the women of Zurich from 1291. It is a tribute to their defense skills against Albert I of Germany.
Today, you can see only the ruins of all these past moments in this landmark in Zurich. However, the place is also a favorite spot for the chess players. Several passionate chess players meet in this place for having fun together, by playing chess.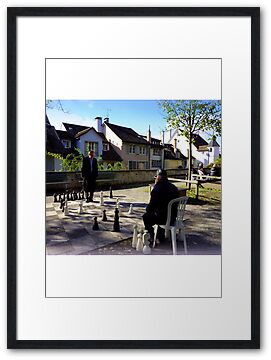 I use a Lumix panasonic point and shoot camera
Featured in: LIFE IN THE CITY
Featured in: THE 50+ GROUP
Featured in: THE WORLD AS WE SEE IT