"EXUBERANCE IS BEAUTY"
William Blake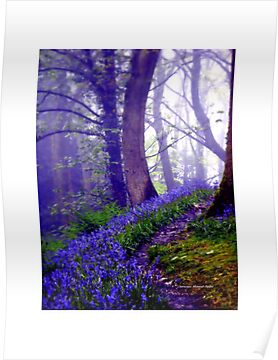 It was such an early and rainy morning in May, but I just had to photograph the bluebells at Blackbury Camp, which is an old Hillfort IRON AGE Site (in Devon, England). You have to drive down a small and rustic road into these woods, and there lies an enchanting place – I'm sure fairies and elves dance around here.
I have a few photos in my gallery of this wonderful bluebell wood.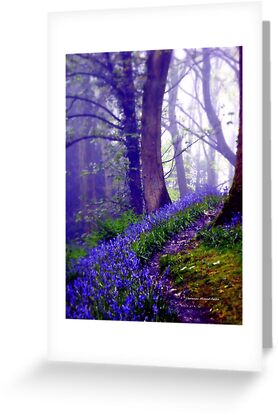 Bluebell (Hyacinthoides non-scripta) This is the ENGLISH ('common') BLUEBELL
The non-scripta or non-scriptum part of the botanical names means "unlettered" or "unmarked" and was intended to distinguish this plant from the classical hyacinth of Greek mythology. This mythical flower (which may have been a wild species of Hyacinthus, Iris or other flower) sprang up from the blood of the dying prince Hyacinthus. His lover, the god Apollo, shed tears that marked the new flower's petals with the letters "AIAI" ("alas") as a sign of his grief.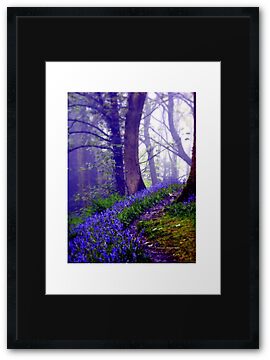 I use a LUMIX panasonic point and shoot camera
Featured in: 'ALL ABOUT FLOWERS'
Featured in: 'NEW CREATIONS OF BEAUTIFUL COLOUR'
Featured in: SEASONS CHANGE
Featured in: FLOWERS – FRUITS – BERRIES – VEGETABLES
Featured in: THE WORLD AS WE SEE IT
Featured in: NATURALIST BRITAIN
Featured in: NIRVANA
Featured in: LUMIX LOVERS
Featured in: SPRING BLOOMS
Featured in: BEAUTIFUL
Featured in: IMAGEWRITING
Featured in: YOUR COUNTRY'S BEST
Featured in: ALL THATS ARCHEOLOGY
Featured in: NATURE'S PAINTBRUSH
Featured in: THE ADDICTED PHOTOGRAPHER
Awarded for more than 50 favourites
(Thankyou so much)
Listed as: 'ONE OF THE MOST POPULAR PIECES IN THE REDBUBBLE COMMUNITY'
101 favourings
517 viewings on November 24th, 2010
thankyou so much
Hillfort in Devon
In Prehistoric Hillforts in Devon, this one is described as'important' and with 'an unusual entrance'. The excavation in 1952-54 by the Devon Archaeological Society showed that the main gate had been an imposing structure.
Inside is very cool and peaceful, with a cathedral-like canopy of tall trees. The enclosing banks are still well-defined, and at the southern entrance you are still able to see the unusual layout of defensive banks. The land falls away down the slope of the hill here.
The oval enclosure of about 2 hectares now in open woodland straddles a 180m steep-sided Greensand ridge capped with clay and flints. It was defended by a substantial rampart and ditch, with one entrance facing the southern slopes; other gaps are recent. A triangular earthwork was added screening the gate – the so-called barbican entrance; it contained a central embanked passageway with a compartment on either side, probably used as stock pens.
Excavation showed that the main gate had been an imposing structure. The rounded rampart ends projected forward and were built up with flint nodules, retained by a timber palisade. Deep post-holes indicated the gate, probably with a bridge to link the ramparts. There was a second timber gateway at the entrance to the barbican. In the interior, the post-holes of a rectilinear hut were uncovered with a cooking pit nearby. Iron slag from the local limonite ores, whetstones and spindle whorls were found along with more than 1,200 sling stones. The pottery included decorated Glastonbury ware and some earlier plain Iron Age wares indicating that the fort was in use from the early 3rd century BC onwards."