"IF YOU GO INTO A FAR, FAR FOREST
AND GET VERY QUIET,
YOU'LL COME TO UNDERSTAND
THAT YOU'RE CONNECTED WITH EVERYTHNG "
Alan Watts
This is the drive to Blackbury camp in Devon, England (ancient Iron Age Site) – I was driving a very old car in a bumpy lane and it was misty and raining – so I thought I better take a photo to motivate me to carry on driving.
This was a special moment, and a moment in time, because I was alone on that road and it was enchantingly beautiful. I felt transported into a very peaceful place. It inspired me to return there a few more times, because driving down this road always gave me a fresh perspective.
I use a Lumix panasonic point and shoot camera
Featured in: 'COUNTRY ROADS AROUND THE WORLD' on August 21st, 2010
Featured in: THE WORLD AS WE SEE IT
Featured in: HOMETOWN PHOTOGRAPHY
Featured in: COLOUR ME A RAINBOW
Featured in: COUNTRY BUMPKIN
Featured in: COLOUR ME A RAINBOW – GREEN
Featured in: THE UNTOUCHED GROUP
Featured in: NATURE'S SYMPHONY OF TREES AND FLOWERS
Featured in: POINT AND SHOOTERS GROUP (June 7th, 2011)
Featured in: YOU'RE ACCEPTED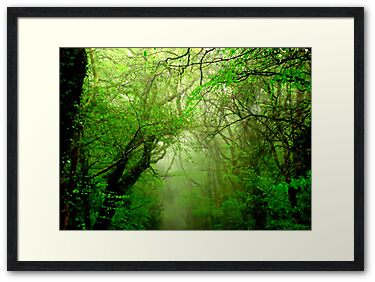 49 favourings
643 viewings June 3rd, 2011
thankyou so much!