"SCATTERED ALONG LIFE'S PATHWAY –
WHAT SUNSHINE IS TO FLOWERS,
SMILES ARE TO HUMANITY"
Joseph Addison
I went to school in Lyme Regis, it was called 'Lyme Regis Grammar School' at the time and now it is called 'The Woodroffe school'. We lived in Woodmead Road.
This picture here shows 'The Cobb' in Lyme Regis, Dorset (England). It is an amazing experience to walk along it. The movie 'The French Leutenants Woman' was filmed here, and in the movie you can see Merryl Streep standing at the end of this wall. John Fowles, the author of the story, lives in Lyme Regis.
Jane Austin was also a frequent visitor and she wrote her novel, 'Persuasion' while living here.
Mary Anning was a renowned fossilist in the 1800's and she found extraordinary fossils along Monmouth Beach, which is just behind The Cobb.
On a windy day, it can be very exciting walking along this wall!
The Cobb (Harbour) at Lyme Regis dates from the 13th Century. It has long inspired artists and writers like Jane Austen. The unforgettable opening scene from the film The French Lieutenant's Woman was shot here.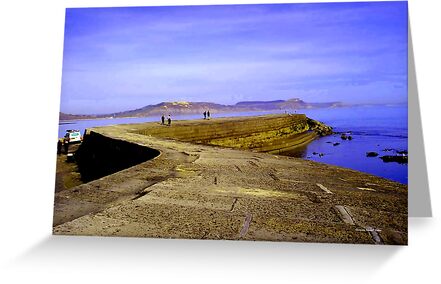 Featured in: TOTALLY AMATEUR PHOTOGRAPHY
Featured in: THE WORLD AS WE SEE IT
218 viewings March 25th, 2011
thankyou so much
I use a LUMIX panasonic, point and shoot camera
I hope you will enjoy this video of Lyme Regis