This poppy seemed very unusual to me. Its petals show a variegated and striped pattern of dark orange and a lighter orange.
Taken with a Canon EOS Rebel XS near Lake Isabella, California.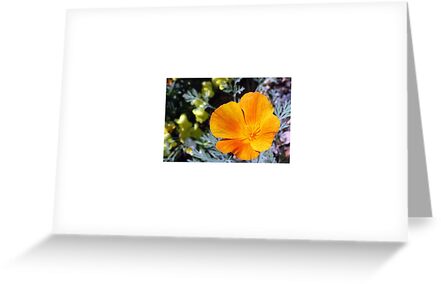 Technical Information
Canon EOS Rebel XS
Taken 7/8/2010, 10:54 a.m.
Shutter Speed: 1/800 sec.
F-Stop: f/20
ISO Speed Rating: 1600
Focal Length: 55 mm
Canon 18 mm to 55 mm lens
(with Macro Attachment)
Filter: 1A Skylight Filter
Minimal adjustment in PhotoShop for contrast.
NOTE: If you happen to be wondering why I was shooting ISO 1600, I had been shooting really low-light stuff and forgot to change my program setting. Oops. But I kind of like the effect.
Features
Featured in High Quality Images August 2010. (Thank you!)

You might also like Things are Looking Up