Broken before its time, a lonely flower dangles from a twisted stem. The little guy deserves, at least, poetic word, a poem or a whole sonnet. Perhaps one day I'll write that poem, but for now the photo is his ode.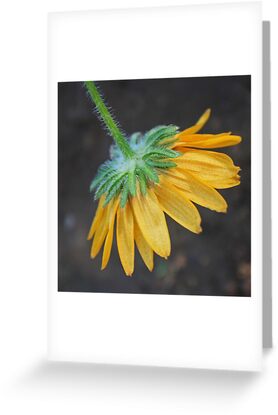 Update, despite this little flower's bent and broken stem, the bloom did not fade. Even though the little bloom's world was turned upside down, it persisted and continued living about the same length of time as the other flowers. It was a lesson in perseverance.
Taken with a Canon EOS Rebel XS with a Canon 70-300mm lens near Lake Isabella, California.
Technical Details
f-stop: f/5.6
Exposure Time: 1/50 sec.
ISO Speed: ISO -200
Focal Length: 47 mm
Taken 7/7/2010 at 4:49 p.m.
Viewing Information
103 views on 01/17/11
Submitted to the 100-499 Viewings Group on 01/17/11.
Featured in One Single Flower on Display September 2010. (Thank you!)

*Featured in "The World As We See It, or As We Missed It" September 2010. (Thank you!)

You might also like Color Blast