A young burro peers out from a fence at the Ridgecrest Wild Horse and Burro Facility.
Most of the young burros are very willing to accept hugs and pets either craving the affection or in hopes of getting treats like carrots. In fact, if you stand by the fence, even without treats, the burros will swarm around you at the fence line.
For more information on wild horses, see The American Wild Horse Preservation Campaign and find out what you can do to preserve this part of the U.S. national heritage.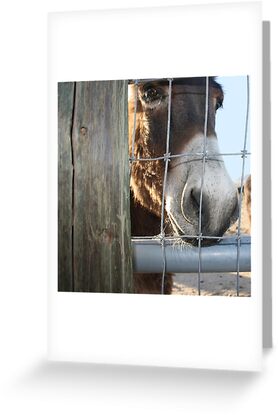 Each animal's neck carries a freeze-brand marking it as property of the US, and a numbered tag that dangles from a cord. The numbers help with identification for the adoption process.
Taken with a Canon EOS Rebel XS using a 18mm to 55 mm lens at the Wild Horse and Burro Facility near Ridgecrest, and China Lake, California.
Featured in Wild Horses, Mustangs, Burros and Other Non-Domestic Equines
June 2010. (Thank you, Arla!)