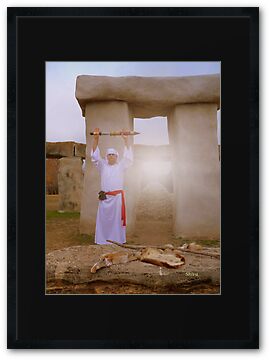 This is a photo I took of Timothy Whitmore-Wolf, an Astrologer, Shamanic healer, Rune reader, who is on the profound path of Druid wisdom. I was able to take this photo at 'Texas Stonehenge' in Ingram South Texas – which provided an artistic backdrop in this scene..
https://www.facebook.com/PlanetaryWisdom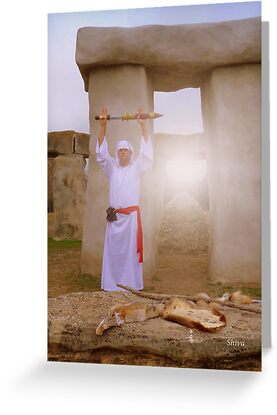 Diodorus Siculus, writing in 36 BCE, described how the druids followed "the Pythagorean doctrine", that human souls "are immortal and after a prescribed number of years they commence a new life in a new body." In 1928, folklorist Caesar noted the druidic doctrine of the original ancestor of the tribe, whom he referred to as Dispater.
During the Gallic Wars of 58 to 51 BCE, the Roman army, led by Julius Caesar, conquered the many tribal chiefdoms of Gaul, and annexed it as a part of the Roman Empire. According to accounts produced in the following centuries, the new rulers of Roman Gaul subsequently introduced measures to wipe out the druids from that country. According to Pliny the Elder, writing in the 70s CE, it was the emperor Tiberius (who ruled froThe best evidence of a druidic tradition in the British Isles is the independent cognate of the Celtic *druwid- in Insular Celtic: The Old Irish druídecht survives in the meaning of "magic", and the Welsh dryw in the meaning of "seer".
While the druids as a priestly caste were extinct with the Christianization of Wales, complete by the 7th century at the latest, the offices of bard and From the 18th century, England and Wales experienced a revival of interest in the druids. John Aubrey (1626–1697) had been the first modern writer to connect Stonehenge and other megalithic monuments with the druids;of "seer" (Welsh: dryw) persisted in medieval Wales into the 13th century.