One of the most thrilling experiences I've had was riding the public bus up the steep, winding road from Kalampaka to visit the Clifftop Monasteries in Meteora, Greece. December 1981 – taken with a Ricoh 35 mm.
DESCRIPTION OF METEORA CLIPPTOP MONASTERIES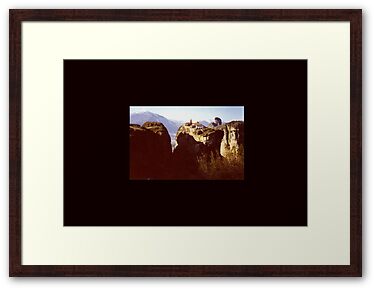 The Monastery of Agia Triada in Meteora: The historical monastery of Agia Triada, meaning the Holy Trinity, has been built on top of a rock in Meteora. It was built around the 12th century by monks seeking refugee from the invading Turkish troops. This monastery occupies the most spectacular position among the six monasteries of Meteora. Visitors can reach the top of the monastery by climbing some 140 steep steps.
Featured in: THE WORLD AS WE SEE IT