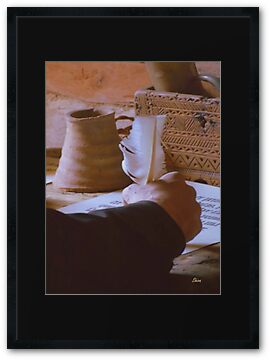 This is the historic monastery in Stein am Rhein, Switzerland – kloster Sankt Georgen
In or around 1007, Emperor Henry II moved St. George's Abbey from its former location on the Hohentwiel in Singen to Stein am Rhein — at that time, little more than a small fishing village on the Rhine. The move was a means to strengthen his presence at this strategic point, where major roads and river routes intersected. He gave the abbots extensive rights over Stein and its trade so that they could develop it commercially. In this, they were very successful and Stein am Rhein rapidly became a flourishing and prosperous town which, in the 15th century, was itself (if briefly) granted reichsfrei status.
The abbey also prospered and, in the 15th century, completely rebuilt its premises, which remain a significant example of late Gothic architecture in the region.
The last and greatest abbot, David von Winkelsheim, who came to power in 1499, completed the building works and added a spectacular suite of Renaissance frescoes that are among the earliest known in northern Europe.
Under the Reformation however, the abbey was secularised and its assets taken over by Zürich. Abbot von Winkelsheim negotiated a settlement with the Zürich authorities, whereby, although control of the abbey was handed over to them, he and the remaining monks would be allowed to remain on the premises until their deaths. Zürich however, suspected the abbot of collusion with the Habsburgs and locked him up in his new rooms. He was able to escape to Radolfzell, but died shortly after, in 1526.[
The buildings remained unharmed until the 19th century, when they were used by their owners for a number of industrial purposes, during which they suffered considerable damage. A Protestant pastor acquired them, and left them in trust for the community, thus saving them. Since 1945, they have accommodated a museum.
The banqueting hall, or Festsaal, containing the frescoes commissioned by David von Winkelsheim, and the cloisters are of especial interest in a building complex.
The abbey church, which dates predominantly from the 12th century, has also survived intact, and is now the (Protestant) parish church.
Das Kloster St. Georgen war eine Benediktinerabtei in Stein am Rhein im Kanton Schaffhausen, Schweiz. Schutzpatrone des Klosters waren der Heilige Georg und Cyrill von Gortyna. Es handelt sich um eine der am besten erhaltenen mittelalterlichen Klosteranlagen der Schweiz. Die Abtei war bedeutend für die Entwicklung der Stadt Stein am Rhein. Das Kloster ist ein wertvolles Bau- und Kunstdenkmal aus dem Anfang des 11. Jahrhunderts. Es wurde in romanischer Zeit gegründet und in der Zeit vom 15. bis zum frühen 16. Jahrhundert mehrfach umgebaut. Das Kloster ist bereits in der Reformation aufgehoben worden. Heute ist es ein Museum.