Featured in BEAUTIFUL BC, April 20th, 2012
Image taken during a fabulous holiday in Whistler, British Columbia, Canada. This particular shot taken during my second day on the mountain, February 2nd, 2011, of the famous Black Tusk peak near Whistler.
Image shot with a Panasonic Lumix G1, 14-45mm lens. Panoramic stitching and processing carried out in CS5.
Please take the time to view in large.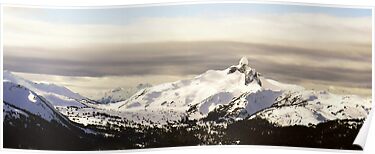 Also in black and white:
Similar images: