Shot taken during our 2010 holiday to Banff (February 8th, 2010), in the Canadian Rockies. This image was taken on the morning I proposed at Lake Louise, Alberta, Canadian Rockies. We spent the morning skiing in the Lake Louise resort, before actually moving on to the actual Lake Louise where I found a spot, got down onto one knee on the frozen lake and popped the question to a resounding and tearful YES! I had also been skiing all day with a bottle of Moet champagne in my backpack, with two plastic glasses too… glad I didn't tumble :o
This actual shot was right at the beginning of our day and I thought was so beautiful I actually contemplated proposing here instead. I am glad I didn't however, but still, WOW, this inversion was amazing!
Processing carried out in CS5 and Nik Software's Silver Efex.
Much, much better when viewed in large.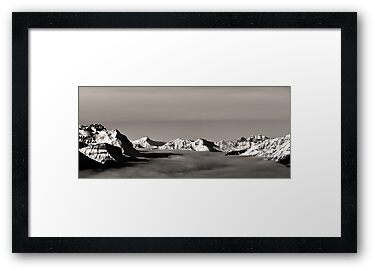 Other images from my proposal at Lake Louise: