Featured in JPEG Cast-Offs, September 4th. 2010 (same day as upload :))
Featured in Lumix Lovers, November 2010
"_Under the arc of a weather stain boards
Ancient goblins, and warlords
Come out of the ground, not making a sound
The smell of death is all around_
And the night when the cold wind blows
No one cares, nobody knows
I don't wanna be buried
In a pet sematary
I don't want to live my life again" Ramones
I thought this was such a strange place. I had never actually seen a real pet cemetery and was fascinated to see this lineage of former Brodsworth Hall pets laid out in such historical fashion.
Shot taken on the first leg of our UK road trip in August 2009. Our first stop was at Brodsworth Hall in South Yorkshire on our way down to Nottingham. Shots taken with a Panasonic Lumix G1, 14-45mm lens.
Processing carried out in CS3 with Topaz filters (Adjust).
Much better when viewed in large format.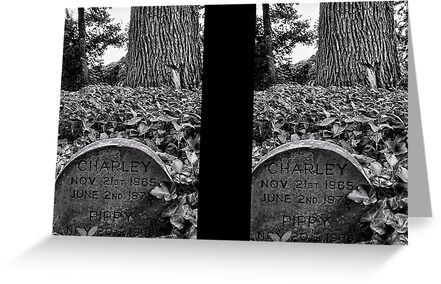 Also from the Brodsworth Hall and Gardens series: