Featured in Beautiful North – UK, August 2010
Featured in Garden Sculptures And Ornaments, September 2nd, 2010
"Time really does stand still at Brodsworth Hall, one of the most unusual visitor attractions in South Yorkshire. Inside this beautiful Victorian country house almost everything has been left exactly as it was when it was still a family home. Possessions that took more than 130 years to gather together, from the grandest piece of furniture to family mementoes and humble domestic items, are still in their original places. Meanwhile the beautiful grounds, a collection of grand gardens in miniature, have been restored to their full Victorian splendour, and feature a colourful array of seasonal displays." – English Heritage
Shot taken on the first leg of our UK road trip in August 2009. Our first stop was at Brodsworth Hall in South Yorkshire on our way down to Nottingham. Shots taken with a Panasonic Lumix G1, 14-45mm lens.
Three separate files merged into HDR by means of Lightroom, CS3 and Photomatix.
Much better when viewed in large format.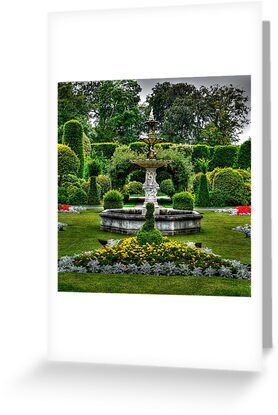 Also available in a selective colour version:
Also from the Brodsworth Hall and Gardens series:
Brodsworth Hall Victorian Mansion

The Magical Tree of Brodsworth