1st place in the Mans Best Friend's competition for May-June 2010*
My dog, Tia, birthed a couple of pups, born February 5th 2010. The bitch had been going by the nickname Hope, later to be called Aspen, whilst her brother had been going by the name Murphy at this point, but is now known as Tahoe.
This is Murphy (now Tahoe), at about two weeks old, wrapped up all cosy.
Shot taken with Panasonic Lumix G1, 14-45mm lens.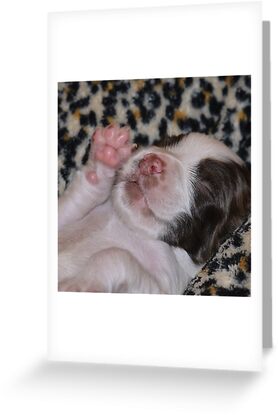 A similar version also exists in "Hi. My name is Tahoe. I am one month old and 'am a dafty Springer Spaniel"

Also;
and, their mother, Tia:
their grandmother, Teal:
The Colourful Life of a Springer

and, their Aunty Pippet:
Portrait of Determination