People on Earth Create Peace on Earth
Meaning without miracle.
Sisterhood without sainthood.
Brotherhood without benediction.
Devotion without divinity.
Ethics without Elohim.
Bravery without Brahma.
Altruism without Allah.
Justice without Jesus.
Commitment without commandment.
Scruples without scripture.
Truth without torah.
Bingo without bible.
Have a merry and happy new year!
---
This is the text from my Atheist Greeting Card 2: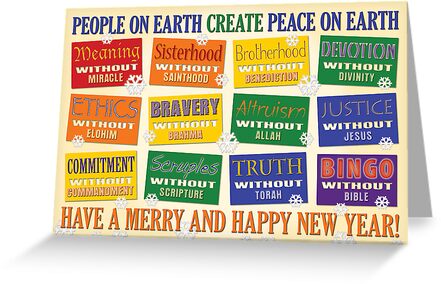 Please also check out my first Atheist Greeting Card: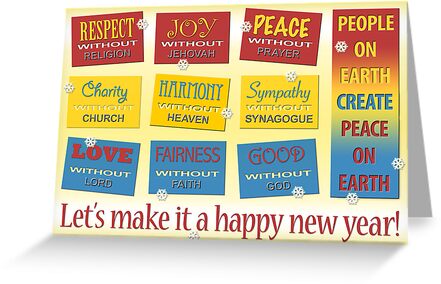 © Shani Rama Sohn. All rights reserved. My writing and images of my paintings may not be used or published anywhere else without my permission. My art and writing does not belong to the public domain. Materials may not be reproduced, uploaded, stored in a retrieval system or transmitted, copied, edited or published in any form or by any means without my permission.