Created in Photoshop • Uploaded November 20, 2011
As of March 13, 2012: 297 views • 9 favourites • 6 features • 7 challenge top tens • 1 challenge win
Please also see my journal entry Why I Am Designing Atheist Greeting Cards.
FEATURES: Theme Thursday–Feature Friday • Avant-Garde • Shameless Self-Promotion • Who Are YOU To Judge? • The World As We See It • Inspired Art: Image of the Day, Nov. 20, 2011
CHALLENGE TOP TENS: Canadian Artists: Positive Potential • The World As We See It Or As We Missed It: Happy New Year • Creative Writing & Poetry: Christmas Poetry • Atheism: It's That Time of Year Again • Every Little Thing You Do: The Magic of Christmas • The Best of Anything and Everything: Christmas is coming • Graphic Arts: Season's Greetings
CHALLENGE WINS: Creative Writing & Poetry: Christmas Poetry
This is the second in what I hope to be a series of atheist greeting cards. With these cards, I am trying to promote the idea that people do not need to hold religious beliefs to be kind, considerate, and generous.
The Red Bubble community has provided me with so much inspiration, motivation, and support. I deeply appreciate what we have here.
I wish everyone on Red Bubble happy holidays and a new year filled with love, creativity, and friendship.
Shani
People on Earth Create Peace on Earth
Meaning without miracle.
Sisterhood without sainthood.
Brotherhood without benediction.
Devotion without divinity.
Ethics without Elohim.
Bravery without Brahma.
Altruism without Allah.
Justice without Jesus.
Commitment without commandment.
Scruples without scripture.
Truth without torah.
Bingo without bible.
Have a merry and happy new year!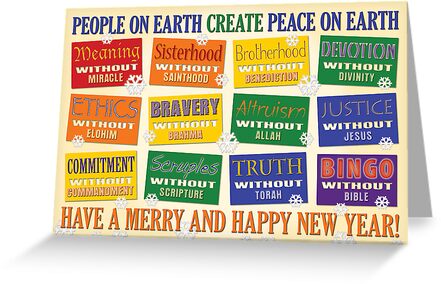 (Worked on in the wee hours.)