Acrylics on 9″ × 12″ canvas • Uploaded August 1, 2011
As of June 21, 2013: 1,486 views • 12 favorites • 7 features • 1 Artist of the Month nomination • 4 challenge top tens
FEATURES: An Artistic Toast to Hot and Cold Drinks (June 21, 2013) * Painters Universe • Art For Sale • The Group • Still Life Fine Art and Food Photography • The World as We See It • SPECIAL FEATURE: The Virtual Museum (featured as the 4th Image of the Day)
ARTIST OF THE MONTH NOMINATION: Painters Universe, Artist of the Month: April 2013
TOP TENS: Classic Artistic Still Life: Food in the Display • The Book Group: Under New Management • Classic Artistic Still Life: A Book on the Table • Art of the Mundane: September Icon Challenge
I must give a very large thank you to The Virtual Museum group host Laughing Bones for choosing White, Black, Red, and Blue (formerly "A Few of My Favourite Things") to feature as the fourth Image Of The Day in The Virtual Museum group.
Acrylics on 11" X 14" canvas
White, Black, Red, and Blue is my sixth painting. It is is my first painting in 2011.
I'd gone for months without painting. I thought that if I set up a still life of things that I especially enjoyed, it might push me over my painter's block. So I poured two glasses of wine and opened a second wedge of blue cheese so that I could sip and nibble while I painted. That did the trick. Now I think I'm in the mood to paint some chocolate . . .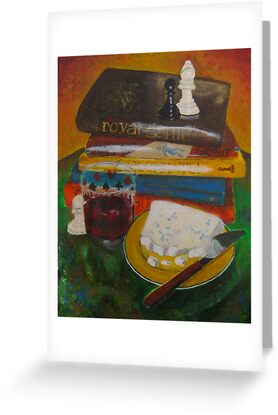 © Shani Rama Sohn. All rights reserved. My images may not be used or published anywhere else without my permission. My art does not belong to the public domain. Materials may not be reproduced, uploaded, stored in a retrieval system or transmitted, copied, edited or published in any form or by any means without my permission.