Acrylics on 16″ × 12″ canvas • Uploaded July 14, 2011
As of June 10, 2013: 2,071 views • 26 favorites • 30 features • 13 top tens
FEATURES: Traditional Painters in Modern Times (June 3, 2013) • 100% Group (May 24, 2013) • Best Fresh Berries Fruit and Vegetables (Apr. 24, 2013) • An Artistic Toast to Hot and Cold Drinks • Realist Traditional Art (Apr. 9, 2013) • Everyday Women • Women Painters (Apr. 8, 2013) • Artistic Still Life (Feb. 28, 2013) • Self-Taught Artists • Featured for a Challenge • Art for Sale (26/12/11) • Tools (26/11/11) • Theme Thursday–Feature Friday (25/11/11) • Color Me a Rainbow • Featured for a Challenge: Still Life • Superbly Visual (again!) • The Group • Rainbow • Still Life, Fine Art, and Food Photography • Superbly Visual • The World as We See It • Live and Let Live • All Things Coffee • The Virtual Museum • The Art of Still Life • Painters Universe • Artists of Still Life • Food for Thought • Shameless Self-Promotion • The World as We See It: Editor's Choice, Still Life of the Week
TOP TENS: Traditional Painters in Modern Times: Fantastic Fauvism III • Featured for a Challege: Your First Upload • Classic Artistic Still Life: Avatar • An Artistic Toast to Hot & Cold Drinks: FUN CHALLENGE #008 – Coffee or Tea? • Featured for a Challenge: 19 Features • The World As We See It: Never Been Placed • Cee's Fun Artsy Friends: Rainbow Colors • Colour Me a Rainbow • Featured for a Challenge: Fruit and Vegetables Still Life • Tools: Fine Bone China Cups and Saucers or Chunky Mugs • Fantastic Mixt Art: Seasonal • 2-a-week: Tea/Coffee Set • Decorative and Traditional Art: Harvest Time • First Things: Still Life
Autumn in Ontario, Canada is inspiring for artists, with trees transforming into a rich, warm palette, and an abundance of apples. McIntosh, Courtland, Spartan, Gala — the variety can be overwhelming — in baskets and bags, crowding the stores and at the many weekend markets. The best way to get apples, though, is to drive to one of the umpteen farms that open for people to pick their own fruit. We are driven out, in hay-lined wagons pulled by tractors, to the orchards, where we can twist the red and green beauties right off their trees.
Fruit and Coffee is my first painting. Acrylics on 20" X 16" canvas.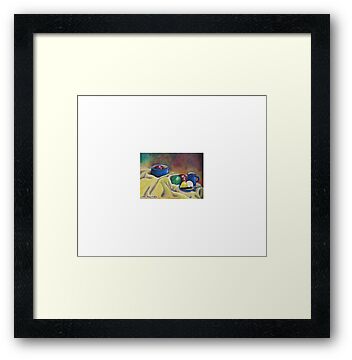 © Shani Rama Sohn. All rights reserved. My images may not be used or published anywhere else without my permission. My art does not belong to the public domain. Materials may not be reproduced, uploaded, stored in a retrieval system or transmitted, copied, edited or published in any form or by any means without my permission.