This is close up of one of our baby ducks. The picture out of the camera showed him with such character. He was tilted to the side since I was holding him with one hand and the camera with the other. Because the background of the photograph was pretty dark anyway I decided from a suggestion from a friend to change the background. So I put him on a completely black background. It really works for this little duck.
Featured in:
LMAO YOUR FUNNIEST IMAGE
I LOVE BIRDS
PLAYFUL and PHOTOGENIC PETS
BABY ANIMALS
FUNNY KRITTERS
PETS ARE US 11/14/09
THE WOMAN PHOTOGRAPHER 11/17/09
BLACK WITH A HINT OF COLOR 11/29/09
THE CHOOK SHED 12/30/09
THE YELLOW TWO GROUP 1/17/09
THE DISABILITY AND BEAUTY GROUP 4/2/2010
SPRING, GLORIOUS SPRING 5/5/2010
Win in the Baby Animals group challenge: "Cutest of the Cute"
Top ten placement in Spring Glorious, Spring group challenge:
"Cute Chicks verses Ugly Ducklings" challenge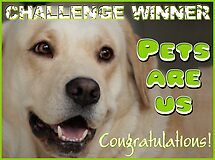 You are also our newest Featured Member!