original oil painting on canvas © Nicla Rossini 2012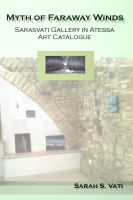 Centaurus A (also known as Cen A, NGC 5128, or Arp 153), is a peculiar elliptical galaxy in the costellation of Centauri. It is visible from Earth's Southern hemisphere and also, contrary to what is usually believed, in relatively low latitudes of the Northern hemisphere (at the horizon): point your telescope towards south, find the Spica star, and move South.
The peculiarity of this splendid elliptical galaxy is a relativistic jet (not included in this piece) that tells us about the presence of a black hole, and a long dust lane crossing it. Recent studies seem to have found a sub-Eddington black hole binary x-ray source in the dust-lane.
The presence of stars in the relatively dark dust lane makes astronomers think that Centaurus A is the result of galaxy cannibalism.
This piece is an oil painting on canvas representing this beautiful peculiar galaxy.