FEATURED IN THE GROUP MARCH 6, 2012. THANKS. FEATURE # 75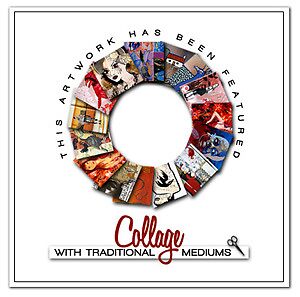 I used very old sheet music which I ripped and gilded the edges before adhering with bees wax to create a patchwork collage look. Applied Golden's Gel Medium to the back the of girl image so the music would only slightly show through her light colored garment. Substrate used: Gallery canvas which I wrapped the paper around to the back to give the sides a finish.
Centre image from a vintage music magazine from 1930's. Scanned it into pc and printed it on tissue paper.
Because this is wax, every once in a while I polish it with a soft cloth.
You can see full screen view of this on my blog: http://lavendulaloveliness.blogspot.com/2012/03...
Blog posted on March 6, 2012.
You can also see a cropped version of the heart portion here: http://www.redbubble.com/people/sandrafoster/wo...
Thanks for reading.