*As of 2nd May, this image reached the 2nd RB Page of Most Popular…. Thank you very much to my friends old and new for all your wonderful support, comments, faves, and features, I am overwelmed by your generosity
246 Views,
25 favours (Thank you very much)*
Castle Howard is part of the English Heritage Group
Best viewed large – it IS the best way!!
Coming home from our little break away at Whitby, Irene and I called in at Castle Howard on the way back for a few hours….
Castle Howard is a stately home in North Yorkshire, England, UK, 15 miles (24 km) north of York. One of the grandest private residences in Britain, most of it was built between 1699 and 1712 for the 3rd Earl of Carlisle, to a design by Sir John Vanbrugh. It is not a true castle, but this term is often used for English country houses constructed after the castle-building era (c.1500) and not intended for a military function.
Castle Howard has been the home of part of the Howard family for more than 300 years. It is familiar to television and movie audiences as the fictional "Brideshead", both in Granada Television's 1981 adaptation of Evelyn Waugh's Brideshead Revisited and a two-hour 2008 remake for cinema. Today, it is part of the Treasure Houses of England heritage group.
The house is surrounded by a large estate which, at the time of the 7th Earl of Carlisle, covered over 13,000 acres (5,300 ha) and included the villages of Welburn, Bulmer, Slingsby, Terrington and Coneysthorpe. The estate was served by its own railway station, Castle Howard, from 1845 to the 1950s.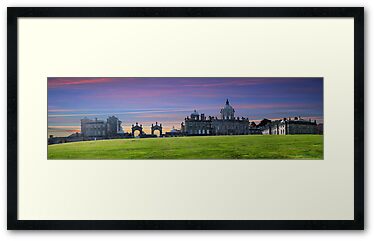 Information sourced from Wikapedia…. Thank you.
Sony A200.
Sony 11-18 mm wide angle lens.
5 handheld w/a shots, stitched together using Photoshop Elements 7, then duplicated, tonemapped, and tweaked using Dynamic Photo HDR.