MY BOOK OF FINE ART PHOTOGRAPHY
I must apologise, but due to time restrictions on my PC I cannot reply to all your lovely comments…. I think it best if I look at all your marvelous Art and comment on them instead. I hope you all understand…. So sorry…..
Ribblehead Viaduct is a railway viaduct across the valley of the River Ribble at Ribblehead, in North Yorkshire, northern England.
It is the longest and most famous viaduct on the Settle-Carlisle Railway, a railway line passing through some spectacular British scenery.
Ribblehead railway station is located less than half a mile to the south of the viaduct. Just to the north of it is the Blea Moor Tunnel, the longest tunnel on the Settle-Carlisle Line.
It was designed by the engineer John Sydney Crossley. The first stone was laid on 12 October 1870 and the last in 1874. It is 104 feet (32 m) high and is 440 yards long (402 m). It is made up of twenty-four arches. It is located near the foot of the mountain of Whernside.
The viaduct is curved, and so may be seen by passengers on the train. The train journey from Settle to Carlisle is short enough to allow the Yorkshire Dales holidaymaker to make a return day trip (steam-hauled, in the tourist season) including a few hours in the border town of Carlisle.
Two thousand Navvies building the viaduct established shanty towns on the moors, named the towns after victories of the Crimean War, sarcastically for posh districts of London, and Biblical names. There were smallpox epidemics and deaths from industrial accidents; meaning that the church graveyard at Chapel-le-Dale had to be extended.
The Settle & Carlisle line is one of three north-south main lines; along with the West Coast Main Line through Penrith and the East Coast Main Line via Newcastle. British Rail attempted to close the line in the 1980s, citing the reason that the viaduct was unsafe and would be expensive to repair. A partial solution was to single the line across the viaduct in 1985, preventing two trains from crossing simultaneously. The closure proposals generated tremendous protest and were eventually retracted. The viaduct, along with the rest of the line, was repaired & maintained and there are no longer any plans to close it.
The viaduct is Grade II listed and a Scheduled Ancient Monument. Two taller viaducts are the Smardale viaduct near Crosby Garrett (131 ft high) and Arten Gill (117 ft high).
Information sourced from Wikapedia.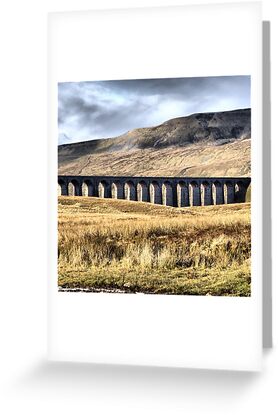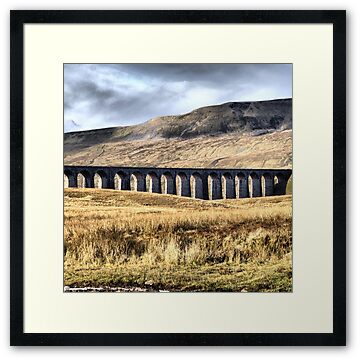 Sony A200.
Sony 18-70mm lens.
1 x handheld file, tonemapped and tweaked using Dynamic Photo HDR.
Finished off using Photoshop Elements 7.