MY PUBLISHED BOOK OF FINE ART PHOTOGRAPHY
A beautiful and sweet Easter card.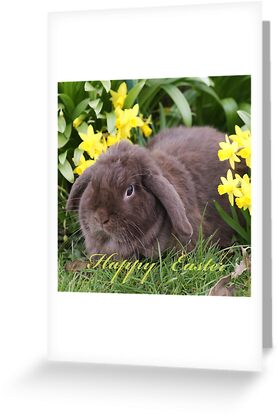 Went to Rodley Nature Reserve, Leeds, W Yorkshire, England, UK today (19th March 2011) and expected to see quite a bit of wildlife…. Imagine my surprise when I came across this beautiful Dwarf Lop Chocolate Rabbit, nestled in and amongst the dwarf Daffodils!!……..
He was in fact on a lead and harness, and his owner, a delightful young lady called Sharon was taking "Jack" out for a walk!!
She gave me permission to take his photo, (and hers as it goes!), and this was the result!!
I left her my card, and we exchanged details. Looking forward to seeing her again, as her portrait (to follow) came out looking fab…..
Sony A200.
Tamron 70-300mm @ 300mm.
Slightly contrasted using Photoshop CS5.
1 x tripod shot, duplicated, and tonemapped and tweaked using Dynamic Photo HDR.