Not a sound could be heard except the soft sound of the snowfall.
No-one was around except me…
My footsteps made a cracking, crumpling sound as I turned around and saw the Willow, sadly weeping frozen tears into the frozen stream that normally feeds the now frozen lake….
The clicking of the camera disturbed a Brent Goose.
He made a hissing noise to let me know he was dis-pleased at what he heard.
Then he ruffled his feathers, and settled back down into his own space….
The Willow looks forlorn now, being beaten by the consistent cold, and frost, and ice, and snow.
There is no life left in the frozen stream.
Everything is at a standstill.
The white blanket is alien to my eyes.
I breathe in, a large deep breath, and I can smell the white blanket.
It smells, clean, and fresh, and crisp.
I look at the Willow, and the stream, knowing that this beautiful sight will not last forever.
The forlorn Willow is only asleep, and the white blanket will soon disappear.
I will return when the frozen Willow weeps green.
And when she does awaken, she will have been oblivious to the white blanket, and will dip her fresh, long, green leaves into the bubbling clear blue stream, that feeds the blue/green lake.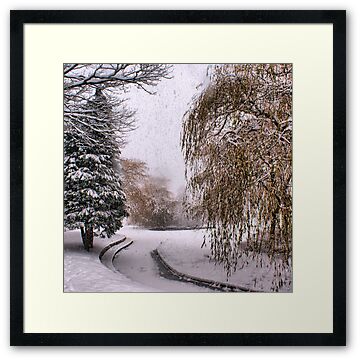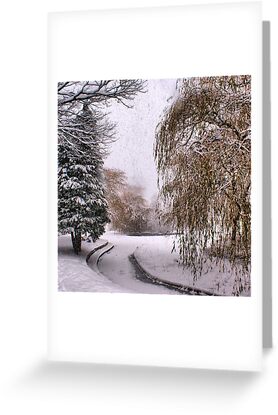 Taken at Peel Park, Bradford, W Yorkshire, England, UK.
Sony A200.
Sony 18-70mm lens
1 HDR shot processed in Dynamic Photo HDR.
Edited using PS7.