I just loved this view when out with my good friend, the Legendary bubbler Irene Burdell at the fish farm – Pendle Hill Fishery, Barrow, Clitheroe, Lancashire, England, UK; not so long ago.
Pendle View Fisheries is located in an area of outstanding beauty within Lancashire's famous Ribble Valley and lies just off the A59 by-pass, nestling amongst some of the most spectacular scenery to be found in the rural heart of the North West with stunning views of Pendle Hill and Wiswell Fold.
Since being purchased by a family consortium in 2001, Pendle View has gone from strength to strength. Much work has been done by the owners to transform not only fishing but also the site amenities and as a result the fishery is now considered to be one of the premier sites in the North West attracting anglers, women and children from all corners of the UK.
I just loved those colours and reflections!
Kindly sourced from Pendle Hill Information blog.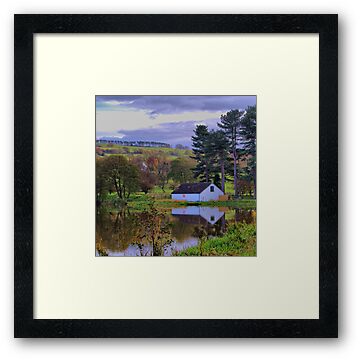 Sony A200.
Tamron 80-300mm Lens @ 300mm.