(Owned by The National Trust…)
As of 2nd May 2011:-
883 Views,
81 faves,
16 features
3 top ten challenge winners
1st Place Challenge winner
Pic of the week
THANK YOU everybody for all you support
On a visit to Seahouses and the Farne Islands, Northumberland, England, UK, I came across this lovely Lighthouse firmly set on Longstone Rock.
Longstone Lighthouse, or Outer Farne as it was first called, is situated on Longstone Rock, one of the Outer Staple Islands and is owned by The National Trust.
Visitors can sail out to this isolated Lighthouse, which is open to the public during the months of April to October.
Visitors can view Grace Darling's tiny bedroom from where she spotted nine survivors desperately clinging to the rocks.
Despite a raging storm, the Darlings launched the lighthouse boat and rescued the survivors, caring for them in the lighthouse for two days until the storm subsided.
The Farne Islands, England, UK, are situated between two and five miles off the Northumberland Coast.
There are 28 islands in total, 15 of which can be seen at high tide, with the largest island being Inner Farne.
Historically the Farne Islands are associated with St Aidan and St Cuthbert, both of whom used the islands as a place to mediate in utter solitude.
The Northumberland heroine, Grace Darling spent most of her short life on the lighthouses here, first on Brownsman's Island and then on Longstone Island.
Sony A200.
Tamron 80-300mm lens @ 300mm.
Processed with 1 handheld shot + 3 duplicates HDR and Tonemapped in Dynamic Photo HDR,
Texture added using Photoshop 7,
Also edited in Gimp 2.6 free download,
and Picasa 3 free download.
The catamaran boat was very unstable, so the original shot was unlevel. The image was too dark and didn't show it's true potential. I added two skies, one with a rainbow, and did alsorts of other tweaking including processing with HDR.
Now that you know how I obtained the final look of this image, and I've given away my trade secrets (never to be revealed again!!), below you will find the original shot……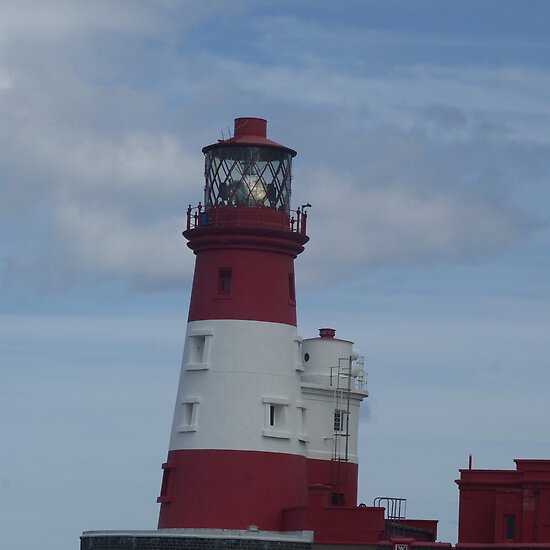 What a difference, don't you think?!!!