Sam's Art Of War Show and Opening... Eugene, Oregon
Well, my first installment of "Sam Dantone's Trilogy Show" has come and gone…
The second show is already hanging, and will hang for the month of June at, "Art of War", located at 251B W 7th. Downtown Eugene, Oregon.
There will be an opening reception friday, June 4th, starting at 5:30pm. The opening will be on the "First Friday Art Walk" roster and will have a live band, Eugene's delta styled blues band Mud Puppy. The grill will be fired up and ready to go, with a variety of flavors to choose from. Be sure to be prompt at 5:30 if you want to see me be questioned by the First Friday Art Walk crowd. We are first on the list for the guided tour. Yes… that makes me nervous.
…Blues and BB-Q… how can you deny that…?
Also, Art of War will be doing martial arts demonstrations throughout the evening…
"Art of War" is by far one of the most unique gallery / other business pairings ever. When you walk in the door you can not help but notice the big picture window that looks into the next room where you will see people training hard at their sport. The owners are a husband and wife team. She runs a hip, upscale gallery and he runs a professional Mixed Martial Arts gym. I have never seen such a clean gym. There is something very cool about the collision of the two worlds. Seeing this wonderful, unique venue is well worth the trip…
You can also see another piece of mine for the month of June at The Museum of Unfine Art as part of the "Bigfoot" group show. The "Bigfoot" show will also open Friday, June 4th. The Museum of Unfine Art is located at 537 Willamette St.
The third show will hang at another new interesting venue, "Cowfish", and will hang from July 15 through August. "Cowfish" is located at 62 W Broadway.
"Cowfish" is also a unique business pairing. By day it is a coffee cafe / gallery, by night it is a Dance Club / gallery. The interior is very well done and fun… I can't wait to go cut loose…
There will an opening reception at Cowfish, Friday, August 6th, starting at 7:00pm….. Dance night anyone?
Please join me for one or all three shows. Each show will be different than the other….
Thank you,
Sam Dantone
Here is a selection of pics from the Art of War show. Yes, I will force more pics on you all after the opening…
Pictured immediately below are Art of War owners, Alisha and Jason Georgiana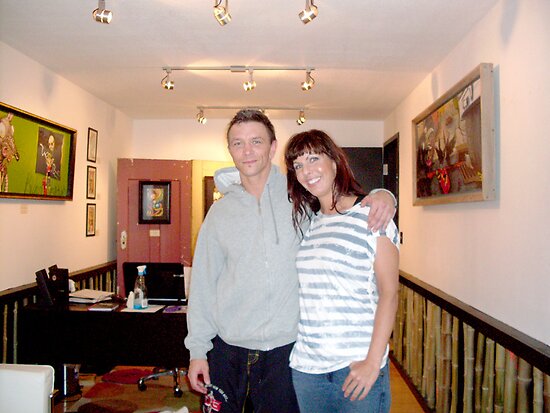 .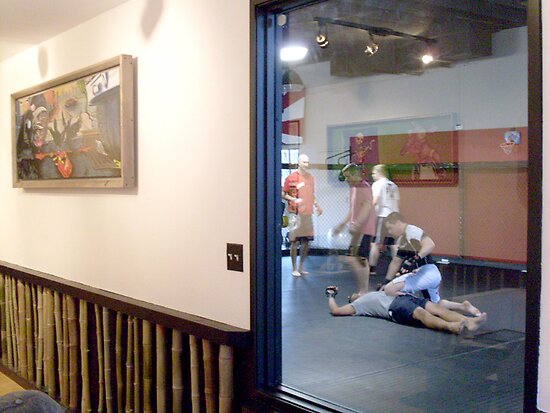 .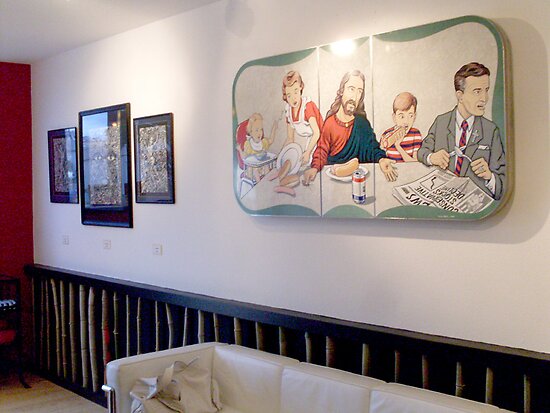 .