BEST VIEWED LARGER
Campbell Town Bridge better known as "The Red Bridge* is located yes in Campbell Town about half way between Hobart and Launceston in Tasmania.
Built in 1838 by convict labour, it is the oldest brick arch bridge in Australia, the bridge spans the Elizabeth River.
Designed by James Blackburn, architect to Melbourne and a convict himself It was constructed of 1,250,000 handmade bricks on dry land, and after its completion the river was diverted to flow under the bridge
The Red Bridge is registered on the Register of the National Estate since 1978.
Sometimes it's good to revisit images , this one i like because of the reflections.
Technique : HDR 3 bracketted exposures tonemapped in Photomatix the adjustments using Photoshop Elements 9.0, Colour Effex Pro and Vivesa 2.
!Equipment : Nikon D300 Sigma 10-20mm lens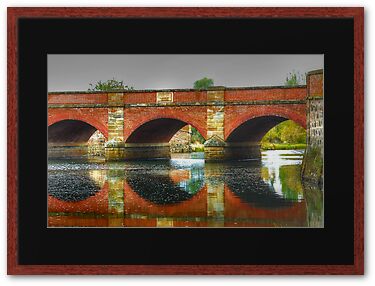 SPECIAL ORDERS – If you want a larger size Canvas Work than what is available through Red Bubble Contact Me direct and we can negotiate size and costs All My Works are available in different media at special costs
© Copyright 2013 Philip Johnson Photography, All Rights Reserved
HELP US CONVINCE RED BUBBLE TO IMPROVE VIEWING SIZES OF ALL IMAGES INCLUDING PANORAMICS
VOTE to provide better viewing of large images HERE:
See Also
Blessings – Daylesford Convent – Daylesford, Victoria: