BEST VIEWED LARGER
About The Mill
Located in Smeaton, an area well known for it's fertile volcanic soils and goldmining past the Mill was built in two sections.
Construction for the five storey flour Mill commenced in 1861, and was operational within 6 months. The Oat section of the Mill was completed by the following harvest.
Outbuildings such as the stables, grain store and bluestone office were added later as the operation expanded. , where the early pioneer Captain Hepburn also operated a flour Mill
The water wheel was developed from designs by John Smeaton and the patterns cast locally in Ballarat at Hunt and Opie's Victoria Foundry.
Water was leased from Hepburn Lagoon, about 5km from the Mill, then released into Birch Creek before being channelled into the water race to turn the huge wheel.
The amount of water required depended on what product was being processed. The person operating the release gates at Hepburn Lagoon would be asked to release 'half oats water' or 'full flour water' for the shift's operation.
Technique: HDR 15 bracketted exposures, tonemapped in Photomatix then converted in Photoshop Elements, Silver Effex Pro
Equipment – Nikon D300, 18-200 mm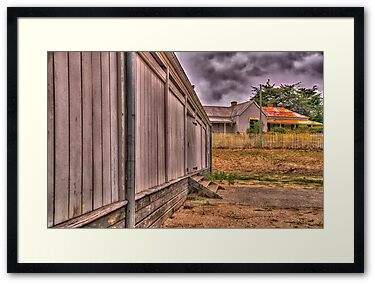 Canvas Work Available in larger sizes than what is on offfer from Red Bubble is available e-mail pjohs@ihug.com.au
© Copyright 2013 Philip Johnson Photography, All Rights Reserved
HELP US CONVINCE RED BUBBLE TO IMPROVE VIEWING SIZES OF ALL IMAGES INCLUDING PANORAMICS
VOTE to provide better viewing of large images HERE