This is an great example of how progress can happen but not destroy our heritage buildings in the middle of the Melbourne shopping centre.
Coop's Shot Tower is located in the heart of the Melbourne CBD. It was completed in 1888 and is 50 metres high. The historic building was saved from demolition in 1973 and was incorporated into Melbourne Central complex in 1991 underneath an 84 m-high conical glass roof.
Coop's Shot Tower is 9 storeys high, and has 327 steps to the top. The tower produced six tonnes of shot weekly up until 1961, when the demand for the lead shot dwindled, because of new firearm regulations.[citation needed]
Recently a museum called the Shot Tower Museum has been set up inside of the tower at the back of R.M. Williams, a tenant in the tower.
The site is listed on the Victorian Heritage Register.
Source: Wikipedia
Equipment: Nikon D300, Sigma 10-20mm lens
Technique: HDR 5 Bracketted exposures, tonemapped in Photomatix, converted to B&W using Adobe Photoshop Elements 9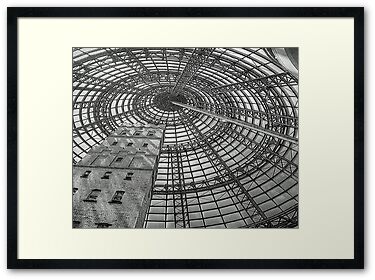 For Cavasses larger than those offered by Red Bubble please contact me pjohs@ihug.com.au
© Copyright 2012 Philip Johnson Photography, All Rights Reserved
HELP US CONVINCE RED BUBBLE TO IMPROVE VIEWING SIZES OF ALL IMAGES INCLUDING PANORAMICS
VOTE to provide better viewing of large images HERE