THIS IS A PANORAMIC IMAGE CLICK ON TO VIEW LARGER
BECAUSE RED BUBBLE DOES NOT DISPLAY PANORAMICS PROPERLY YOU CAN VIEW THE PANORAMIC PROPERLY HERE:
This afternoon i was travelling a country road just outside Daylesford in Victoria, lots of cloud activity this day with supercell activity , had to stop and catch this clouds the landscape reminded me of the windows startup screen lol
Technique: 30 Bracketted exposures, shot in 6 segments of 5 exposures. TThe first segment was tonemapped in Photomatix 4.4. the tonemapping repeated for the remaining 5 segments. to create 6 tiff files. These 6 tiff files were then merged (stitched) in Photoshop Elements 9.0 to form 1 × 1.2gb panoramic tiff file which was resized in Photoshop Elements saved and converted to a jpeg file and uploaded to RB.
Equipment : Nikon D300, Nikon 18-70mm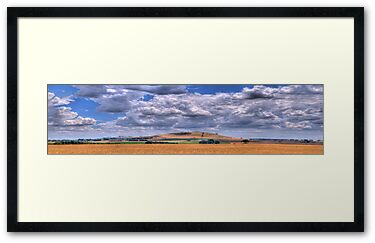 SPECIAL ORDERS – If you want a larger size Canvas Work than what is available through Red Bubble Contact Me direct and we can negotiate size and costs All My Works are available in different media at special costs
© Copyright 2012 Philip Johnson Photography, All Rights Reserved
HELP US CONVINCE RED BUBBLE TO IMPROVE VIEWING SIZES OF ALL IMAGES INCLUDING PANORAMICS
VOTE to provide better viewing of large images HERE:
Brief description of this work to get your audience all excited.