PANORAMA BEST VIEWED LAGER
This panoramic shot was taken from the outdoor observation deck of Black Mountain tower outside the Australian National capital of Canberra.
Black Mountain Tower (previously known as Telstra Tower and Telecom Tower) is a telecommunication tower that is situated above the summit of Black Mountain in Australia's capital city of Canberra. Rising 195.2 metres above the mountain summit, it is not only a landmark in Canberra but also offers panoramic views of the city and its surrounding countryside from an indoor observation deck, two outdoor viewing platforms and the tower's revolving restaurant.
Technique: 25 RAW exposures were taken shot in sets of 5, the first set of 5 exposures was then tonemapped in photomatix 4.1. this procedure was then repeated another 4 times to create 5 × 35mb tiff files. All five files were then merged in Photoshop to create 1 × 600mb panoramic tiff file.
The file then adjusted and cropped, saved as tiff and jpeg
Equipment: Nikon D300, Nikon 18-70mm manfrotto tripod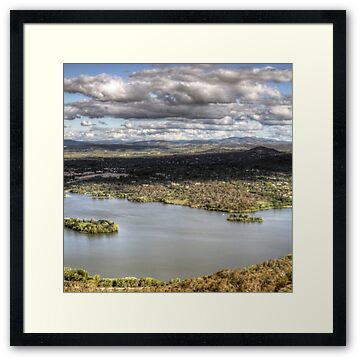 © Copyright 2011 Philip Johnson Photography, All Rights Reserved