BEST VIEWED LARGER
Taken on Open Sydney, the most mazing stair case I have seen in Sydney or anywhere the stair case runs the length of the building and topped with this stunning Stained Glass
Former Société Générale Building
Originally the head office of the Equitable Life Assurance Society of the USA, this building was designed in the American Romanesque style by the Society's chief architect, Edward Raht. On completion it was said to have surpassed anything that had ever been attempted in the Australian colonies. Raht designed the building around a central light well containing a grand staircase with a balustrade of Belgian marble. The light well is roofed by a magnificent stained-glass ceiling and once housed two open-caged lifts. During World War II the ceiling was temporarily dismantled and stored in the building's basement, part of which had been converted for use as an air-raid shelter. A handsome vestibule, with walls faced in Italian marble, provides access to the upper floors via a stairway. On the fifth level is a former banqueting hall. The building was extensively restored during the 1980s.
Equipment : Nikon D300 , Sigma 10-20mm
Technique: HDR 5 Brackets, tonemapped in Photomatix 4.1, tidied in Photoshop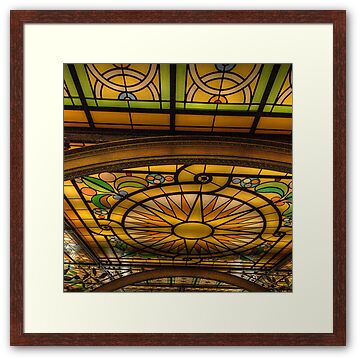 See Also
Glory 2!