BEST VIEWED LARGER
The State Theatre opened on 7th June 1929 in a blaze of colour and light. Above the theatre is an 11 storey office tower.
The interiors of the State Theatre are lavish and it is worthwhile going on a guided tour.
If you are visiting Sydney , set aside 2hours for a tour of this treasure and travel back to the days of the great movie palaces where so many have been demolished.
This shot was taken recently and shows the grandeur of the theatre
It has been recognised by The National Trust of Australia, which described it as "a building of great historical significance and high architectural quality, the preservation of which is regarded as essential to our heritage".
Opened in 1929, this superb 2000 seat heritage listed theatre fuses eclectic elements of Gothic, Italian and Art deco design. For over 70 years it has enchanted and captivated those who have enjoyed its palatial interiors.
Often described as a "Palace of Dreams",
It contains a 21 piped Wurlitzer organ, one of three with the other two residing at and the (now demolished) Regent Theatre nearby and the tate Theatre in Melbourne.
This the dome over the assembly area
The interior also included paintings by Charles Dobell and Julian Ashton. The building is listed on the Register of the National Estate
For further information "Sydney Architecture":
http://www.sydneyarchitecture.com/cbd/cbd3-008.htm:
Technique : HDR Photomatix & 5 bracketted Exposures
Equipment Nikon D300 and Sigma 10-20mm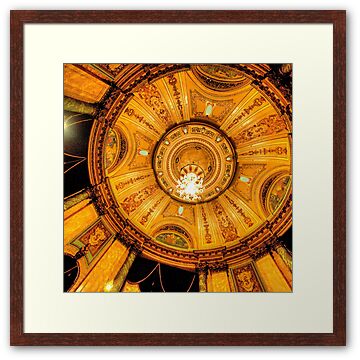 See Also