BEST VIEWED LARGER
Taken from Hyde Park Barracks the creation of Francis Greenway looking through the bars to St James Church also a creation of Francis Greenway.
Francis Greenway was a convict originally sentenced to death at the Old Bailey , this was later comuted to 14years transportation to the Penal Colony of Sydney.
His talent for architecture was put to use by the governor at the time in creating some of Australias Architectural Treasures.
So famous did Francis become ?
Well for a period his image was featured on the $10 Note…… by the way what was he sentenced for ???? FORGERY
This shot taken on the 3rd Annual Worldwide Photowalk Saturday 24th July 2010, i led a group of 50 Photographers.
Listed on the Heritage Register of Australia
Constructed by convict labour in the 19th century, the Barracks is one of the most familiar works of the accomplished colonial England-born, Australian architect Francis Greenway. As the principal male convict barracks in New South Wales it provided lodgings for convicts working in government employment around Sydney until its closure in mid 1848.
Hyde Park Barracks in a 1914 drawing by William Hardy WilsonIt has had many occupants since then. It was an Immigration Depot for single female immigrants seeking work as domestic servants and awaiting family reunion from 1848 to 1886 and also a female asylum from 1862 to 1886. From 1887 to 1979 law courts and government offices were based at the Barracks.
Presently
In 1981, Hyde Park Barracks underwent conservation and adaptation work by award-winning architects Tonkin Greer and conservation architects Clive Lucas Stapleton and Partners. Now, the newly installed Hyde Park Barracks is a museum operated by the Historic Houses Trust of New South Wales. Tourists who visit the building discover the daily lives of convicts and other occupants through exhibitions on Sydney's male convict labour force, Australia's convict system, an innovative soundscape, excavated artefacts, exposed layers of building fabric and the complex's rooms and spaces
Source Wikepedia:
Equipment: Nikon D300, Sigma 10-20mm
Technique: HDR 5 Bracketted Exposures, Photomatix 3.26, Capture NX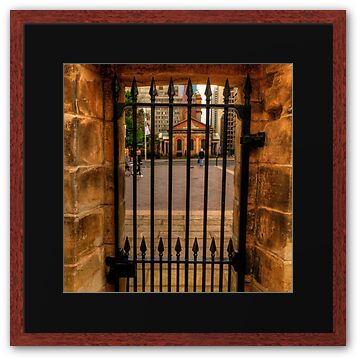 See Also
#2: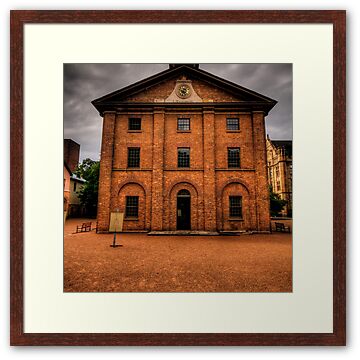 #1: