BEST VIEWED LARGER
This is a grand example of how saving history and incorporating a heritage building into a development can benefit the development.
The Coops (Melbourne Central) Shot Tower is located in the heart of the Melbourne CBD. It was completed in 1890 and is 50 metres high. The historic building was saved from demolition in 1973 and was incorporated into the massive Melbourne Central complex in 1991 underneath an 84m high conical glass roof.
Coop's Shot Tower is 9 storeys high, and has 327 steps to the top. The tower produced six tonnes of shot weekly up until 1961, when the demand for the lead shot dwindled, due to new firearm regulations.[citation needed]
Recently, a museum called the Shot Tower Museum has been set up inside of the tower at the back of R.M. Williams, which is tenanted in the tower.
Coops Shot Tower – This is a fine example of a rare and distinctive building type and survives almost intact to this day. The building is carefully massed with its campanile style central tower above the two storey factory with five arched openings. Much of the original shot making equipment survives and gives the building extra significance. The Shot Tower is a prominent city landmark and was the focal point of a group of brick warehouses and stores in this area. This brick tower rises 50m (165ft) and was allowed to surpass the 40m (132ft)by 10m due to the purpose of the bldg- Shot making process. it is one of 5 shot towers built in Australia. It has been preserved despite demolition of all other buildings on this block it is now enclosed in 1991 by the 77m tall geometrical cone of the Melbourne Central shopping complex.
Equipment: Nikon D300 Sigma 10-20mm lens handheld
Technique: HDR 5 Bracketted Images, Photomatix 3.26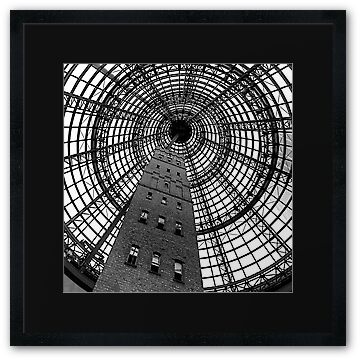 See Also